Description
To mark Glasgow Women's Library's 21st anniversary, the Library commissioned 21 women artists to create new work inspired by items and artefacts in our collections.
One of each limited edition will join the GWL Archive Collection, while the rest are being sold to raise money for the Library. This is your chance to buy an exclusive artwork and support the Library's work at the same time!
Jacki Parry, Women In The City, 2012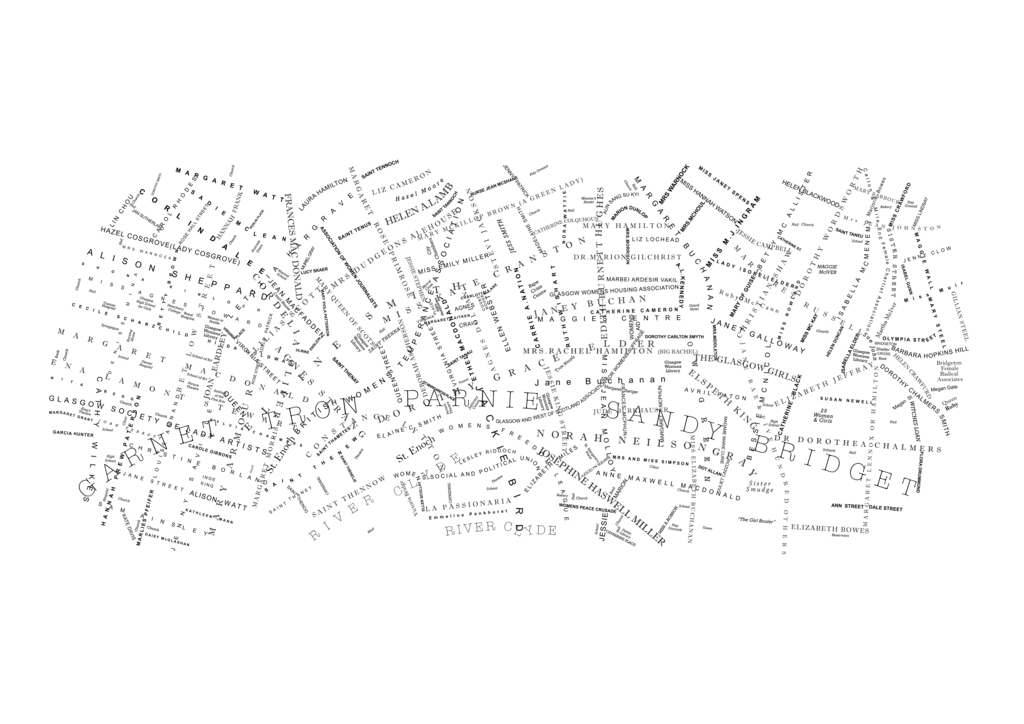 Photo-etching on mouldmade paper, 71.5 cm (w) 54cm (h), edition of 20
The focus for Women In the City is provided by the five geographical locations of Glasgow Women's Library since its inception in Garnethill to its new home in Bridgeton.
Street names have been replaced with those of women whose contribution to the life of the city is acknowledged in the walking tours initiated by GWL. Where a street already has a woman's name it has been left in.
In the spirit of recent work by Maria Pia Ercolini in Rome and Habiba Sarabi, Governor of Bamian, Afghanistan we should call for the naming of streets in new areas of our towns and cities to reflect the presence of women.
About Jacki Parry
Jacki Parry was born in Australia and has lived in the UK since 1965. Following a period of teaching and travelling in Europe and Asia she moved to Glasgow where she was one of the founder members of Glasgow Print Studio in 1972.
In Barcelona she studied papermaking with Laurence Barker and in Shiroishi, Japan with Tadao Endo after which she established The Paper Workshop (Glasgow) in 1985. Jacki has exhibited and lectured internationally and her work is represented in collections in the UK and abroad, including the Scottish National Gallery of Modern Art, Edinburgh, Hunterian Print Collection, Glasgow, British Council, London and National Gallery of Art, Washington, USA (Paper Conservation Collection).
Buy Jacki Parry's Women In The City now
This print is available for £500. You can arrange to pick the print up at GWL, or have it sent by post (£20 UK/£40 International). Please select the option you prefer from the drop-down menu above. You can also buy the print directly at GWL.
The print is also available framed for £595. We are not able to send framed prints by post – we will contact you when the framed print is available to pick up.