Description
To mark Glasgow Women's Library's 21st anniversary, the Library commissioned 21 women artists to create new work inspired by items and artefacts in our collections.
One of each limited edition will join the GWL Archive Collection, while the rest are being sold to raise money for the Library. This is your chance to buy an exclusive artwork and support the Library's work at the same time!
Fiona Dean, To the dear love of comrades: in memory of Flora Murray, 2012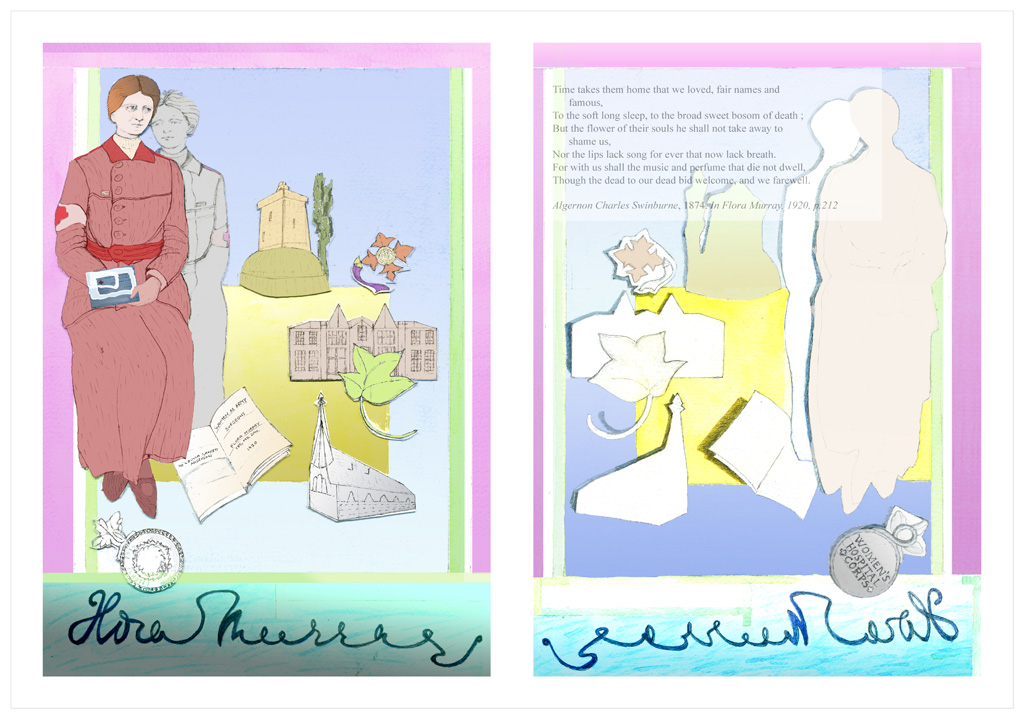 Digital pigment fine art print on paper, 46.5 cm (w) x 32.5 cm (h), Edition of 20.
Flora Murray was born in the former parish of Cummertrees, in Dumfries and Galloway in 1869.  She was a medical doctor, an active and prominent member of the WSPU and fought a brave and public campaign against forcible feeding, looking after a succession of WSPU hunger-striking prisoners, including Mary Richardson, Olive Wharry, Kitty Marion and Emmeline Pankhurst to name only a few. With her colleague and long term companion Louisa Garrett Anderson, she established the Women's Hospital Corps in Paris in 1914 under the auspices of the French Red Cross and then the Endell Street Military Hospital, London from 1915-1919, run and staffed by women – recognised militant suffragists.
A woman of such remarkable achievements, yet so much of Flora's history is 'hidden', tucked away in archives, newspapers, periodicals – sometimes tenuous and fragmentary – which, along with searches for family members, have all played a part in trying to build up a 'lost' picture of Flora and her life and achievements. To the dear love of comrades is taken from part of the inscription on Flora's grave stone, and is an attempt to locate Flora somehow back home in Scotland; presented as a kind of open sketch book, the form of the print reflects the pencil, watercolor, gouache and gesso drawings made directly of the sometimes concrete, sometimes sketchy imagery and objects of her life.
Framed by the WSPU colours (accounts suggest that Flora was rarely seen without her WSPU badge), objects such as her CBE; and the Women's Hospital Corps medal and uniform that she and Louisa commissioned, are all present and set alongside some of the landscape and connections that Flora would have grown up with and known; Dalton kirk; Repentance tower; her home, Murraythwaite; the leaf of a tulip tree from the garden of the house where Flora was born; a fragment from her book; a poem quoted by Flora to remember lost comrades; her signature, traced from a visit home in 1910; and alongside, the constant presence and suggestion of her 'comrade' Louisa.
About Fiona Dean
Fiona Dean is an artist, educator and researcher. Based in Glasgow, Fiona received her BA (Hons) and PGDip in Fine Art, Sculpture from The Glasgow School of Art and her PhD from the University of Stirling. Her visual work is concerned with landscapes and objects and their relationships, in particular the narratives revealed through their histories, factual and fictional. These interests and approaches criss-cross painting, print-making, sculpture, writing, research and learning, with a particular focus on participatory practices and developing new pedagogies linked to artists' processes. She has received a number of awards for her work, including a Churchill Traveling Fellowship, Wingate Foundation Fellowship and funding from the Scottish Arts Council, British Council and European Culture Foundation. Fiona runs fugitivespaces, set up in 2005 to develop research into artists' projects as well as initiating new programmes of artists' opportunities.
She was involved in the early research, development and delivery of a number of initiatives including: Public Art Scotland (PAR+RS), and support of Working in Public: art, practice and policy – a series of public talks and invited seminars across Scotland with artist Suzanne Lacy; GI LEARN 2010 – part of Glasgow International Festival of Visual Art – researching and testing GI's potential as a catalyst for new kinds of educational partnerships; and Glasgow Women's Library's Making Space project, which explored learning linked to participatory and collaborative practices in the development of public art. She has published various articles and essays related to these interests in understanding and questioning art's role in social inclusion and is currently Researcher with ArtWorks Scotland, part of the Paul Hamlyn Foundation's national programme of development to support artists working in participatory contexts and settings.
Buy Fiona Dean's To the dear love of comrades: in memory of Flora Murray now
This print is available for £200. You can arrange to pick the print up at GWL, or have it sent by post (£20 UK/£40 International). Please select the option you prefer from the drop-down menu above. You can also buy the print directly at GWL.
The print is also available framed £280. We are not able to send framed prints by post – we will contact you when the framed print is available to pick up.