Description
To mark Glasgow Women's Library's 21st anniversary, the Library commissioned 21 women artists to create new work inspired by items and artefacts in our collections.
One of each limited edition will join the GWL Archive Collection, while the rest are being sold to raise money for the Library. This is your chance to buy an exclusive artwork and support the Library's work at the same time!
Delphine Dallison, Grassroots, 2012
Digital pigment fine art print on paper, 35cm (w) x 35cm (h), Edition of 20 prints and badges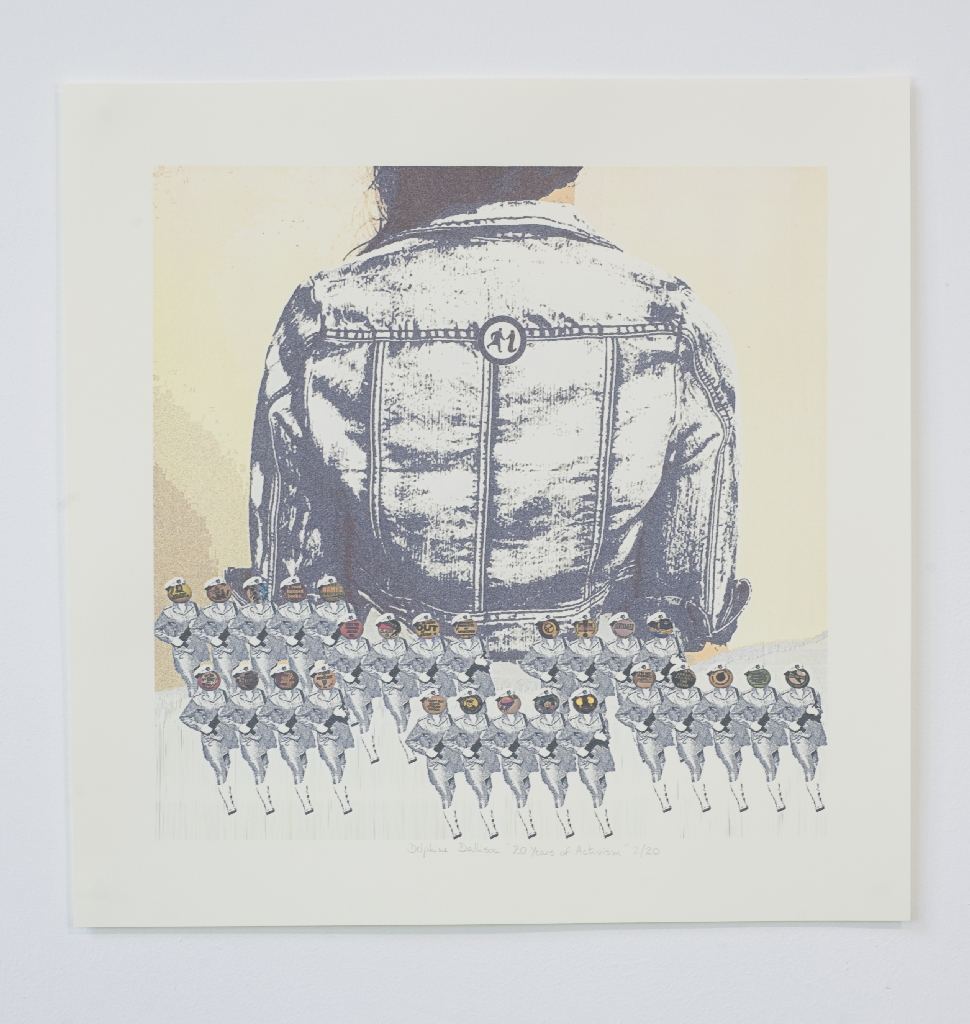 "For this project, I drew my inspiration from the collection of badges collected in the GWL archive. When I first looked through the collection, I was struck to discover that it contained not only badges related to the feminist issues the library has supported over the years, but also to a much wider range of political causes, from "Free Nelson Mandela" to "Abseil against Clause 28", denoting the richness and variety of political activism which the Library has championed in past years.
"Looking through the badges was like getting a little history lesson and I wanted to create a print that would arouse people's inquisitive nature and encourage them to find out more about these badges and their place in the archive.
"Finally, to accompany the print, I also wanted to create a new edition of badges that reflected the variety of causes supported by the women currently working at GWL. I therefore contacted all the women currently working or volunteering at the library and as a result of their fantastic response, I was able to create an edition of 20 badges which once again demonstrates how political activism at GWL permeates all avenues of life, beyond what people would normally see as feminist issues."
About Delphine Dallison
Delphine Dallison is an upcoming artist with a keen interest in handmade publications and prints, 3D installations and participatory practice. In her work, she explores themes linked with gender and sexuality, drawing inspiration from her personal experience as a bisexual and gender queer individual. She is currently pursuing her studies at Glasgow School of Art and about to enter her final year.
Buy Delphine Dallison's Grassroots now
This print is available for £150, plus postage (£20 UK/£40 International); the full set of twenty badges costs £20, plus postage (£10 UK/£20 International). You can arrange to pick the print and/or badges up at GWL, or have them sent by post. Please select the option you prefer from the drop-down menu above. You can also buy the print directly at GWL.
The print and badges are also available framed – the framed print costs £225; the set of badges is available framed for £80. We are not able to send framed prints by post – we will contact you when they are available to pick up.