Pouring Out, Pouring In: Mapping Women's Work
27th October, 2023
to
20th January, 2024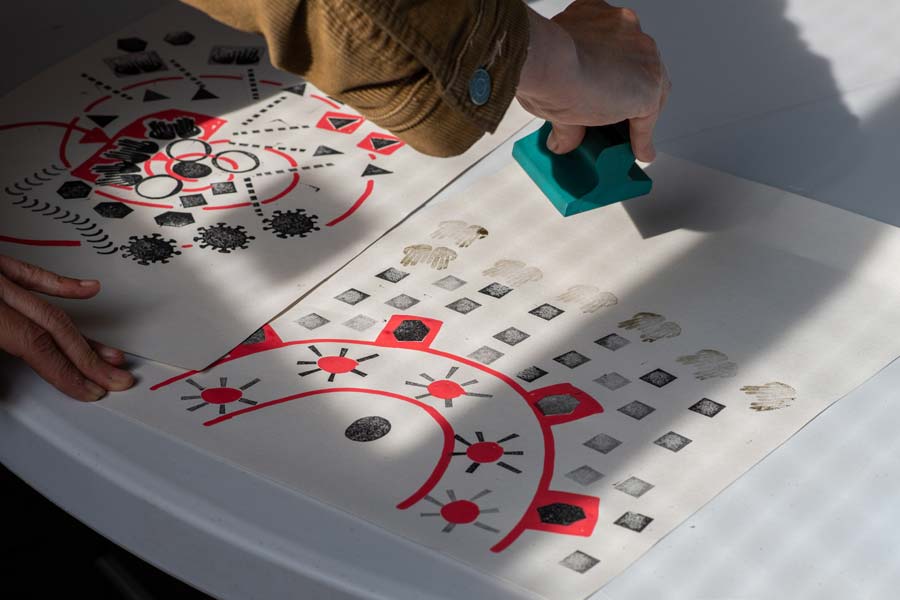 There will be an exhibition launch and celebration on Thursday the 26th from 5.30pm – 7pm. All Welcome, no booking necessary.
Artist Ailie Rutherford has been working with us to visualise the complex nature of work and care for many women*. This exhibition will display prints and other outcomes from the Mapping Women's Work workshop series at GWL.
Supported by items from the GWL archive and books from the Feminist Exchange Network library, (currently living in the GWL event space) and building on a University of Glasgow study, the workshops invited women to map out their multiple roles and responsibilities, take part in conversations about precarious, undervalued and invisible labour and to think together about how we might move towards a more equitable economic system.
The results and visualisations of their collective thinking will be exhibited.
Ailie Rutherford's practice is grounded in feminist economics, creating participatory artworks that connect women's lived experiences with feminist theory.
Download: Pouring Out, Pouring In publication
*inclusive of transgender women and other marginalised genders
The commission is part of the research project "Women in multiple low-paid employment: pathways between work, care and health", led by Louise Lawson, based at the University of Glasgow and funded by the Nuffield Foundation exploring the experiences of women working multiple jobs and examining the inter-relationships between women's paid and unpaid work, care responsibilities, and health and wellbeing.
Image credit: Stephanie Gibson
Pouring Out, Pouring In: Mapping Women's Work
27th October, 2023
to
20th January, 2024
Glasgow Women's Library is wheelchair accessible, with lifts to the first floor and the Mezzanine Floor. We have accessible toilets and all the bathrooms are individual closed stalls and are gender neutral. Our larger Events Space is fitted with an induction loop. A portable induction loop is also available.
Find more information on Accessibility at GWL or contact us and we will be very happy to offer assistance.
Event Categories:
Related Events