Hello, I am Celine. As a student of Literature and Arts from Germany, I was delighted to have the chance to dive into the history of Glasgow Women's Library. It is my pleasure to share with you in a series of twelve blog posts (you can see previous ones here). They will include some of the highlights captured in past GWL Newsletters. I hope you enjoy reading about GWL's past as much as I did! This is part of the celebration of the Library's 30th Anniversary.
For many people it might seem hard to imagine a time without having access to the internet and the ability to "google" to your heart's desire. In a matter of seconds, we can have an overwhelming amount of information on any research topic. However, it of course wasn't always like this. Glasgow Women's Library was founded in a time when no one had smartphones in their hands. Therefore, it was very interesting to read past GWL Newsletters which document the stages of the library's digital development over the years. On this path of change-making moments and milestones, digitisation was one of our bigger projects and stood out as an important part of GWL's history. Additionally, when talking about digital access, the topic of accessibility at Glasgow Women's Library deserves to stand in the spotlight as well.
In this digital day and age, it was lovely to have the chance to browse through the GWL Newsletter, which was printed on paper. Getting to hold the issues with colourful covers in my hands was a welcome change. Nowadays, multiple articles and blog entries on GWL's website inform readers of the latest news connected to the Library, which, undoubtedly, has its many advantages. GWL's first website was created in 1998, this means GWL was very digitally forward thinking, as not many organisations had websites at this time.
Social platforms, like Twitter and Facebook, came into the picture later in 2008. Before finding our way around the fascinating world of social media, the website underwent a few changes. In Issue 30 (2004), GWL was thrilled to announce the launch of their new website coming up:
"It is hoped that this cleanly designed and easily accessible site will tempt more visitors to the Library, as well as prompt more international enquiries about the Library's collection and resources."
(Issue 30/Winter 2004)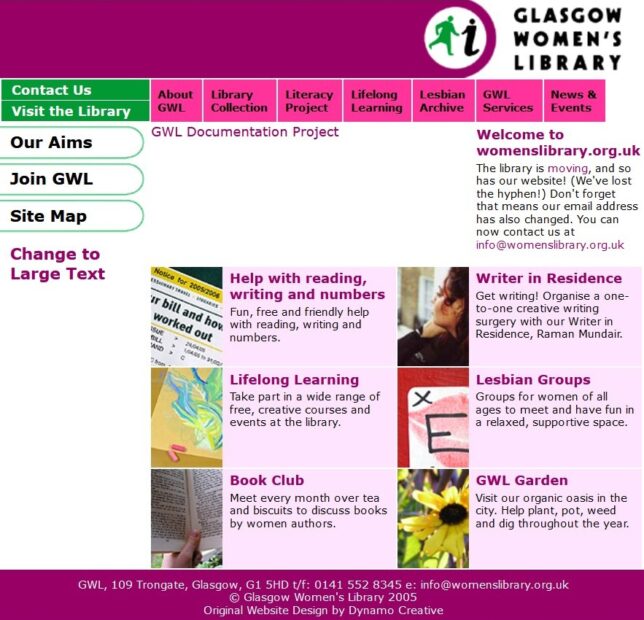 Around the same time that the website received this glow-up, GWL was in the middle of moving out their residency at Trongate 109. This was seen as an opportunity to start an online blog for everyone to contribute with their writings. What started as a format to keep everyone updated regarding the Library's move, developed into a space for sharing whatever is of interest to the writers and readers today. You can find out about the latest GWL news, discover new works, read about highlights from the past, or enjoy reviews of events, books, and more!
In the spirit of saying goodbye to the Library's long home at Trongate 109, staff and volunteers picked up video cameras and sound recording devices to start the project 'Documenting 109'. It was a chance to capture history, experiences, and memories made in the library. Thanks to grants from the Scottish Community Foundation and Awards, this project could take place and it represents an important record of GWL's history. You could also read about the project in Issue 33 (2005) to see the women in action at work. With the help from professional artists, Rachel Thibbotumunuwe and Jan Nimmo, GWL gained support in the field of photography and video documentation. In this project, photos of women holding their favourite book were taken in the Library's space. Today, these images can be observed hanging on the wall of the staircase up to the community room. So next time you are attending an event upstairs at Glasgow Women's Library, you are invited to have a closer look at the photographs on the wall.
Everyone who was involved, put a lot of time and effort into making this project a successful celebration of accomplishments in GWL's history. In addition to the photographs, there are interviews and video material capturing memories in sound and colour. Interestingly, this was not the first time GWL worked on video documentation. Going back many years, in Issue 2 (1997) the following announcement was made:
"A grant from the Maypole Trust in 1996 enabled the Library to acquire a video recorder. Two volunteers have since been on a video-making course and, since our last Newsletter, we have begun video-documentation in earnest."
Looking back, this was a time of change for Glasgow Women's Library. One Issue prior, the Allen Lane Foundation awarded GWL with a grant to be able to fund the full computerisation of the Library. Not long after that, the announcement of computers for use at the Library could be read up on in Issue 5 (1997/98). This meant that GWL had one or two computers available at a time. Nevertheless, there was no one in the post of digital marketing officer until GWL moved to Bridgeton. The beginning of computer cataloguing began not long after, which was also marked in Issue 7 (1998). Technology also had many advantages in terms of accessibility. A little box in Issue 14 (2000) announced the recording of the GWL Newsletter on audio tape.
Our Accessibility work in 2021
We have always wanted to make sure that all who visit or interact with Glasgow Women's Library feel welcomed and comfortable. The Active Welcome Creative Cluster, made up of a group of staff and volunteers, takes the lead on making our collections, services and spaces more accessible. We are currently developing an audio-visual guide of the library, applying for funding for BSL interpreters to sign at events, and implementing quiet times for visitors and team members who prefer a quieter environment.
You can find out more about what is already in place to make our building more accessible and provides information about what to expect when visiting us on our Accessibility web page. In addition to an audio introduction, there is a British Sign Language (BSL) version available.
We're also delighted to have improved the physical access to our building this year by securing funding to install automatic doors throughout, which in addition to the two lifts make the whole building wheelchair friendly.
If you have any questions about our accessibility work or if you have any feedback on how we can improve, please send an email to info@womenslibrary.org.uk or telephone 0141 550 2267 and speak to a member of staff.