I am a mother of three children, a wife, a daughter, auntie – the list goes on. Life has always been busy, if not running an office, there was always something to organise or make time for.
Lockdown came, and with my husband and kids busy with their own lives, I fell into my normal routine of cooking and cleaning around them. But the events of the last year and a half inspired me to pause, take some time and reflect on where I want to be in 5 years from now.
Realising that I wanted to be doing something that was for me, I thought about the things that bring me the most joy in my everyday life. One of those being my love of books, I've loved reading from an early age whether it was romance or a good crime thriller.
I decided to give up my job, and finally concentrate on me.
Not too soon later, I came across an event advertised on Facebook for classes on play writing with the Glasgow Women's Library. It felt as though it had been written just for me, I took it as a sign and enrolled.
My first class was nerve wrecking, I hadn't been in that setting in such a long time. But by the second class, I really started to enjoy myself and engage with the group. I knew I had found the right course thanks to facilitators who made the class so much more enjoyable and welcoming.
I have enjoyed the classes thoroughly, and I am looking forward to further courses in the future, I have regained my confidence and have so many ideas for my own book and play writing.
Whilst doing the course, Syma Ahmed, from Glasgow Women's Library, would invite us to engage with a variety of writers and their work. This included an informal conversation with Safina Mazhar who wrote the 'Power of Four' series, and Noreen Haq whose writings are published as an anthology in 'A Match Made in Heaven'.
It was so interesting to hear about how they started their own writing journey and the bumps along the way. It renewed my inspiration and helped me to believe that I was on the right track.
My next venture was then into live theatre – the writing group was invited to watch live drama at the Edinburgh Fringe Festival. This was made possible through the support of Stellar Quines Theatre Company. I was fortunate to go with my daughters to see Niqabi Ninja, this was not your standard sit down and watch production, but an interactive walk and listen through headphones experience.
What a wonderful, intriguing idea.
The drama was an emotional thunder ball, once it was out there it was very hard to supress the emotions and to make sense of does this really happen, do women have to fight and endure this every day in every part of their life? Be it work or home and in so many other situations. An awakening waiting to happen, well done Sara Shaarawi.
The next occasion was meeting our own Scottish Eastern comedian, actress, play writer Lubna Kerr. This event was held at The Bowling green, organised by Glasgow Women's Library. Lubna's work was also being performed at The Edinburgh Festival, called Tick Box. My friends and I were fortunate to catch her show in Glasgow at the Tramway, it was a great experience to share with friends and talk about after. What a wonderful show, again another insight in how our parents began their journey for a better living in Scotland in the 1960's.
We have so much talent in Scotland, we need a voice and I think we have found them. And now I can't wait to add my contribution to the community.
by Naheed Ahmed – participant from the 'Writing for Performance: Muslim Women Write' workshop series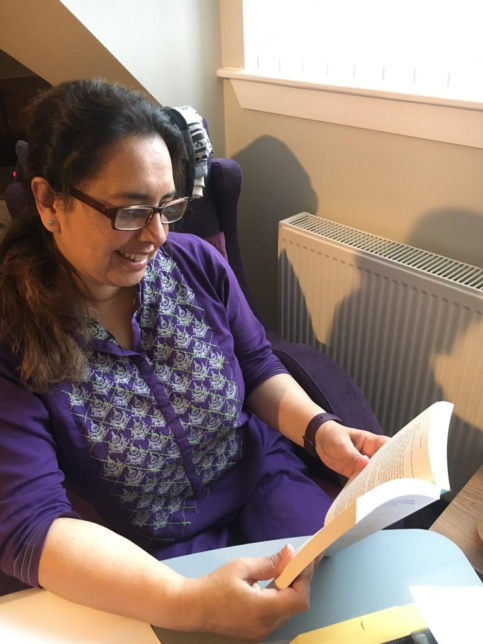 The plays for the 'Writing for Performance: Muslim Women Write' workshop series will be performed on Saturday 16th October 2021 | 2pm to 3.30pm | Digital event
Please see the following link for full details and to book your free space: