We're very proud that two of the most repeated descriptions about Glasgow Women's Library (GWL) are that it is 'welcoming' and 'inspiring'. We have invested lots of energy and creativity in digital activity in the past, however things did change with lockdown when we began to host our learning and events programme entirely online for the first time. How do we try to make this space equally welcoming and inspiring? And what can you expect when you join us?
What are our digital events like?
Who will be hosting the event?
I booked to attend – what happens next?
Accessing GWL through a screen
Will I be on screen all the time?
What are our digital events like?
GWL has a wide range of events to "take part" in including creative writing workshops, Story Cafés where you can listen to excerpts from books and poems and discuss them, or our ongoing Reading Group for Muslim Women. You can also "attend" events to celebrate new work, such as our upcoming performance by GWL's Drama Queens, or our Bold Types writing competition showcase.
We think it's helpful to know in advance whether there's the invitation to "take part" in an event, rather than "attend" and we'll be marking events in this way in our Autumn programme. Remember that even in a "take part" event, we know that not everyone likes to share, so don't be put off by that!
Find out about all our online events by searching our website here.
Grateful to have a welcoming, thought provoking, feminist, Women of Colour space.
Readers of Colour Participant

Felt like GWL in my living room!
Fiction Writing to Help Manage Chronic Pain Participant
Who will be hosting the event?
GWL deliver lots of events, sometimes with partners, and so even if you know us well there might be someone you haven't met before delivering the virtual event. We try to let you know in the confirmation email who will be hosting the event and, just like we'd do in the library, the host will give a welcome at the start and introduce the people you'll hear from.
We usually have a team member supporting in a Digital Front of House role. They let everyone into the event from the online waiting room, and look out for questions in the chat box. Their name will have 'Glasgow Women's Library', or 'GWL' written beside it, and if you need help during the event you can privately message them and they'll do their best to help.
Here's some of the GWL team having a team meeting on Zoom! You might meet us hosting one of our virtual events or supporting in the Digital Front of House role.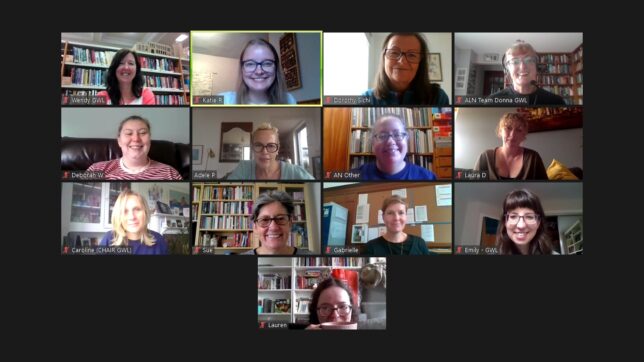 I booked to attend – what happens next?
Thanks for booking to attend a GWL event, we look forward to seeing you! You will receive an automated confirmation email, then a couple of days before the event we will send you another email which includes a website link to join the event. We'll also send simple instructions for how to access the event, and how to use the main functions of the platform we'll be on, for example how to turn your video on or off. Most of the time we use the video call platform Zoom to host our virtual events.
If you don't receive this email, please first check your spam folder as it may have gone in there. If you can't find it please get in touch with Emily on emily.ilett@womenslibrary.org.uk.
If you have any questions about an event you're attending, or about joining online, please get in touch and we'll do all we can to support you in joining the event.
The way you give the instructions for joining the meeting on zoom is very helpful.
Story Café Special: Three Generations of Fictional Women participant

I thoroughly enjoyed it, and it is giving me more confidence joining in with zoom.
Story Café Special: Three Generations of Fictional Women participant
Accessing GWL through a screen
Many of us at GWL are spending more time in front of a laptop or phone screen at the moment, and you might be too! We know how tiring this is, and how important breaks are. Typically, our online events are shorter than the equivalent in the library and we try to add a schedule for each event on our website so that you know what to expect and when you can have a break. It also means you can dip in and out if that's best for you.
We show all films with subtitles. Where possible we share the text or a transcript for materials that are read aloud. We hope to fundraise to enable us to offer live captioning at our events.
We are continually reflecting upon accessibility, including in the digital space, and if you have suggestions to feedback to us we would value your insight.
Please hold many more online Story Cafés! Have rarely been able to attend in person previously so great now to have the online events.
Story Café Participant
Will I be on screen all the time?
You're welcome to have your video turned on or off. Sometimes for larger events we might ask you to turn your video off, but we'll always explain this at the start of the event.
Mostly we ask everyone to put their microphone on 'mute' unless you are the one speaking. The event host will let you know when's best to 'unmute' your microphone during the event. We love to encourage sharing, though it's always voluntary of course! The chat box is almost always open to questions and comments and often the event host will read these aloud.
We'll let you know in advance if the event will be using 'breakout rooms' and we'll explain what this looks like – joining one of the 'breakout rooms' is always voluntary.
We'll let you know in advance if the event is going to be audio or video recorded.
We try our best to keep our virtual events secure and this is why we ask that you book in advance. It helps our Digital Front of House team member if you have your Zoom name set as the same name you booked under.
I was able to explore my own creativity and learn from the creativity of others. It was wonderfully put together and we were guided from the very beginning to the end.
Create and Connect Participant
Women only events
We know attending events from your home is very different to entering a room at the library. Our home spaces can be busy or noisy and many of us have had the experience of a child, partner, flatmate or pet appearing suddenly in the background of our Zoom calls! Some of our online events are for women only (all women-only events are inclusive of Trans and Intersex women, as well as non-binary and gender fluid people). We ask that you're respectful of other attendees and use headphones if that feels right, but we don't want the worries of another person entering your space to put you off attending an event. Remember that you can always keep your video off when joining an event, if that makes it more comfortable for you to take part.

Your vital feedback
We often ask for participants to give us feedback, and to complete an equal opportunities monitoring form, at the end of our events. The Digital Front of House team member will pop a web link to the feedback form in the chat box at the end of the event and we'll email it to you afterwards. Your feedback is especially helpful to us while we are learning and trying out new things as you help us identify what about our virtual events is working well and what we can focus on improving.
[The event made me feel…] in touch with others, emotional, happy.
Create and Connect Showcase Attendee

Content was great and the session format worked perfectly. Very interesting, stimulating, and friendly as always.
Story Café Special: Three Generations of Fictional Women Participant
Our shared (digital) space
These are some of the ways GWL aim to create a welcoming space and we hope you'll join us in helping to make our events warm, respectful and inclusive. Together we hope to provide a space for everyone to learn and listen to one another. You can read more about GWL's vision and values here.
Made me feel less lonely and more connected to the world even when it's only online. Fiction Writing to Help Manage Chronic Pain Participant

Relaxed, happy to be talking to like-minded individuals.
GWL Book Group Member