This December I'm celebrating an anniversary – I've now been happily working in GWL for a full year, having joined the team as a development worker last December. Looking back on a packed year of ground breaking projects and personal learning it's hard, if not impossible, to sum it up in a blog post. One of the great things about working in the women's library (as well as the large variety of tea on offer) is being surrounded by such inspirational book shelves. It's been difficult but I've chosen six books, that have punctuated this year in the library and would thoroughly recommend to others.
I started with a love story, Scots Makar Jackie Kay's debut novel – Trumpet. The story is about Joss Moody a fictional jazz musician whose death is narrated through the lens of those closest to him stirring up a rage of questions for his son and the wider world around the borders of gender identity and race. This storm of identity politics is navigated by his wife Millie whose deep mourning and profound love continuously denies attempts to retell Joss' story according to those restrictive categories. While I was reading we were hosting the author in a collaboration with two fantastic artists, Ruth Barker and Hannah Leighton-Boyce. Jackie's words were written bold on the walls of our exhibition space (and some still remain if you venture up to the archive) surrounded by art works that also spoke differently about sadness and the inspirational energy between people in relationships of care and trust.
Ruth Barker & Hannah Leighton-Boyce: Exhibition Launch with Special Guest Jackie Kay, January 2019
Next I visited two authors who we were celebrating at our annual festival Open the Door. Agnes Owens and Naomi Mitchison. I choose The Complete Short Stories by Agnes Owen and Memoirs of a Space Woman by Naomi Mitchison. Through these two texts by two remarkable women I felt my world expand and contract in beautiful and unsettling ways. Memoirs of a Space woman shows us a world where the often undervalued skill of communication across profound difference has been elevated to a science. I had to get my head around Martian bonding practices and alien pregnancies. From there Agnes Owen's short stories delivered me back down to earth, showing me the equally surreal side of working class life in the west of Scotland. Both sinister and funny stories like Lean Tales and Gentlemen of the West are not for the faint hearted but in a few words they sketch characters and stories that have stayed with me.
Open the Door 2019
Next year: Open the Door 2020
After experiencing these new writers (who should both be much more well-known!) I couldn't resist returning to an old favourite. Given where I work and also that I knew we would soon host her at Open the Door I couldn't resist picking up Ali Smith's Public Library. This is another collection of short stories that in some ways is all about the different passions people carry – for words or plants or relationships – and all these are book ended by testimonies that relate personal stories about public libraries; places of discovery, joy and community. For Ali putting your head in a book is also about being fully immersed in the world. Books travel with us challenging expectations, weaving connections and leaving us open to surprising things.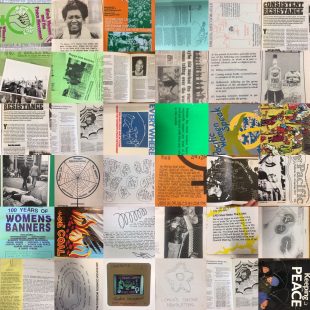 From the important commons that is public libraries I'd like to mention another commons that caught my attention both from work in our archive and through supporting artist Yvonne Billimore to host a fantastic two day study group at the end of this year around Greenham Commons. Greenham Commons is a story of protest that starts with a walk from Cardiff to the site of a military base to house American nuclear missiles and ends nearly two decades later in the reclaiming of the land as a commons. A group of women set up a camp, enduring rain, mud and derision to collectively develop new forms of protest that still resonate now for new generations of activists. We have an archive on Greenham which was at the centre of the study day but we also have the more portable book Greenham Common: Women at the Wire. Like the movement this is a book with many voices, it covers the first turbulent years setting up the camp from the perspectives of many who experienced it. Through these stories we see how they met the issue of violence and how its politics can seep into every aspect of life, but also the joy in protest and negotiating new ways of being together in the face of nuclear threat.
Re-reading Greenham Common, November/December 2019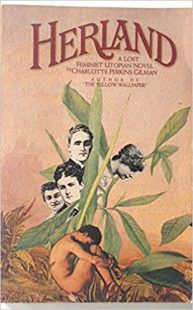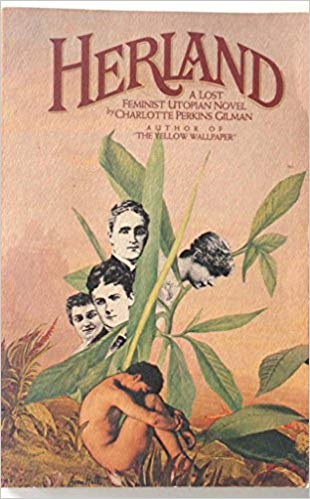 Rather than cold war despair I'd like to end with utopia futures in the form of a small but important book by Charlotte Perkins Gillman called Herland. Herland is about a fictitious society of women who, finding themselves completely isolated from the rest of the world, create the ideal society that is free of conflict and war.  Herland is a space apart, constructed by a shared understanding of motherhood as a collective enterprise, not something for a few isolated at home but something that shapes and enriches the wider world.
This book has been inspirational for my thinking on environmental action and change this year. It also lends its title to a long running event GWL hosts Herland. This year Herland has been the scene of ceilidhs, conversations on writing and finally a collaboration between Brazil and Scotland to create new performances inspired by our collection. Looking back to look forward it's safe to say that the new year will bring more exciting Herland events to entice the senses, more boundary crossing work, new writers I'm yet to discover and reading lists to look out for. I can't wait!