Follow our campaign called #WomanOfTheWeek. Each week we will focus on a new, important female writer and post about her and her work. We will be highlighting the lives of the well-known, groundbreaking feminist writers, as well as the, sometimes, lesser known female authors. Feel free to contribute! We would love to hear your input as to what female authors you want to learn more about/or perhaps teach us about.
This week's #WomanOfTheWeek is Kathleen Collins and she was chosen and written about by GWL Volunteer Pauline.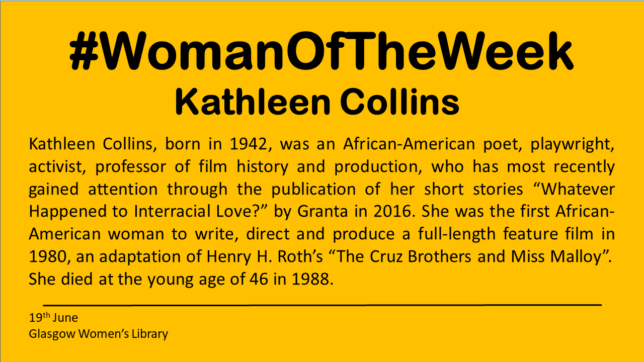 Kathleen Collins, born in 1942, was an African-American poet, playwright, activist, professor of film history and production, who has most recently gained attention through the publication of her short stories "Whatever Happened to Interracial Love?" by Granta in 2016.
She was the first African-American woman to write, direct and produce a full-length feature film in 1980, an adaptation of Henry H. Roth's "The Cruz Brothers and Miss Malloy".
She died at the young age of 46 in 1988.