A new year sparks new excitement for music fans over the world as the countdown for the festival season begins.
This week, TRNSMT Festival announced their 2019 line-up which left fans disappointed. Fans of the festival took to Twitter and Facebook to voice their disappointment over the line-up and how the organisers failed yet again to create a fair representation between male and female artists.
Last year, Geoff Ellis, the founder of T in the Park and now TRNSMT, said he was "committed to doing more." And furthermore, would hope to " have a strong balance next year". But the latest line-up revealed that the figure of female artists has shrunk from 21% to 20%.
In response to the back lash, Ellis said "We try to have females on the bill. Jess Glynne is a big artist and she's there. Would I prefer to have more female artists? Yes. But it is also about developing female artists to make them headliners." He continued, "It's not that we're ignoring female artists, but you can't always get them on the weekend of your festival. And sometimes you've got to get them at different points of the year."
Regardless of his argument for his "efforts" this year to create an equal line-up, the statistics clearly show there wasn't much attentiveness to the goal of creating a fair balance between male and female acts.
It's bizarre that in 2019, the fight for gender equality is still in this tug of war. Recently Fender released their statistic on the sales of their guitars which disclosed that in the UK and US, women account for half of their guitar purchases. And going by that you'd think somewhere in the UK, there must be a new cool female solo act or even better a female fronted band? However, despite all the industry discussions surrounding inclusion and diversity, TRNSMT booked the same old acts who happen to be the all-white-male band.
However, TRNSMT isn't the only festival to be criticised over the lack of female acts in their line-up.
Reading and Leeds Festival has faced controversy year in and out for the gap between male and female artists that perform there. Notably, this year sparked disappointment due to the line-up presenting another 'pale stale male' fest. It was one of the few festivals to refuse to sign a pledge to improve gender equality at festivals around the world. Melvin Benn, the boss of Reading Fest voiced his skepticism on the pledge, "Is that the right way to go about it – to say it's got to be 50/50? I don't know that it is".
Instead, Benn helped promote a project called ReBalance, which delivers female artists with one week's studio recording time over the next three years. The main focus is to create a wider selection of female artists so that festivals have a significant amount to choose from when it comes to booking their line-ups. This is a respectable effort certainly, but it is a remedy for a conceptualised issue that there's a small number of female artists in the music industry.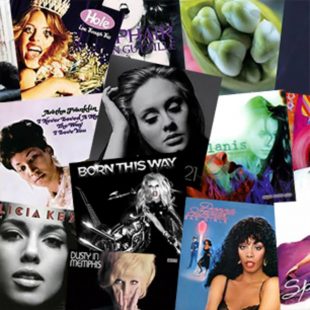 In around five minutes, I was able to come up with a number of possible female acts that could perform at festivals. Take note organisers:
Lady Gaga, Lana Del Rey, Beyonce, Adele, Ariana Grande, H.E.R, Janelle Monae, Tasha Sultan, Lizzo, Dua Lipa, Solange, Billie Eilish, Kali Uchis, SZA
And why not choose some female fronted bands like:
St Vincent, Courtney Barnett, Frankie Cosmos, The Pretty Reckless, Fleetwood Mac, Paramore, Men I Trust and Christine and the Queens.
Some have argued the point that it is a financial issue organisers have rather than a matter of gender inequality. And festivals are a business at the end of the day so naturally it aims to succeed in order to make a profit, therefore it's just a matter of who's available. And this could be an understandable argument if they didn't manage to book the likes of the Arctic Monkeys, Radiohead, Biffy Clyro, Kasabian, Liam Gallagher etc. who were all huge acts and potentially set with high booking fees.
It is highly likely due to years and years of gender inequality and those who aren't directly affected turning a blind eye to this issue that means it has gone under the radar for so long and perhaps subconsciously more festivals are drawn to booking male acts.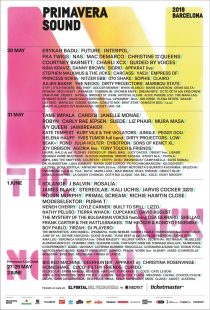 An international campaign called KeyChange is helping emerging female talent whilst encouraging festivals to sign up to a 50/50 gender balance pledge by 2022. The campaign includes Trans and non-binary performers in the 50% pledge for each festival.
Barcelona's Primavera Sound Festival subscribed to this pledge and presented their knock-out 50/50 line-up this year. Marita Pallares, spokesperson for the festival, responded to the well-received line-up, "Half of our audience is female, so why shouldn't we have a 50/50 split on our line-up. We are living in a new feminism wave that's obviously affected us all as people. It's not possible to keep looking at the world as we did before. The music industry is moving forward, but there is still so much work to do."
It was also recently confirmed Glastonbury, Bestival, BBC Music Introducing Live, BBC Proms, Glasgow International Jazz Festival and many more have signed up.
It's encouraging that more festivals are signing this pledge. It creates hope that more women will be represented within this industry. As we educate and better ourselves, the phrase 'it's a man's world' will be lost and more women will start to believe that they can follow their aspirations. Ignorance is not bliss in this case. And more people need to open their eyes to these issues so we can actively work on them together.
So with this being said, it brings to question: Why is it so hard for TRNSMT Festival to follow suit?
GWL's Music Events:
Glasgow Women's Library has an event 'Utter: Raise Your Voice' which is a free event that will be held on Thursday, the 28th of February at 6.00pm to 7.3o pm. Join this singing group who attracts women of all ages and abilities together to celebrate womanhood through the power of our collective voice. Each session uses music and movement to explore a particular aspect of our personality. Build confidence and experience the joy of making music together. No auditions, no need to read music, and no singing experience necessary.
Also come join us for our 'Hidden Rhythms' event on the 8th of March. It is a chance to hear original songs and poetry celebrating love, joy, sadness, hope and everything that comes with life. The songs and poetry are written and performed by young women who are often hidden, these tracks will give you a glimpse of a world too often overlooked. It starts at 6pm to 7.30pm, and will be £3 full price. However, we offer subsidised places at £2 for students, people on a low income, unemployed or those in receipt of benefit and Friends of GWL.
Please book via this link; https://womenslibrary.org.uk/event/hidden-rhythms/  or you can call us on 0141 550 2267.
We hope you can come along!
All women-only events are inclusive of Trans, Intersex women, non-binary and gender fluid people.*