GWL Intern Jeanette Lang recently made a fascinating discovery while conducting research into Scottish suffragette Kate Evans . . .
Jeanette says:
An anniversary cannot be celebrated without preparations, and so it is for the centenary of women's right to vote in the UK. Besides exhibitions, installations, film screenings, processions and lectures across the country, this event has inspired many researchers to dig deeper once again into suffragettes' lives already covered in books, but also to find out more about lesser or even unknown suffragettes.
As part of their Vote 100 work, GWL is dedicating resources to bringing to light more of the trailblazing women who paved the way to more freedom and autonomy for millions of women of future generations.
Two of these women actually share a name: Kate Evans.
One Kate is Scottish, and the other is Welsh.
Kate Evans, the Scottish Suffragette
Kate Evans was born in Stirling in 1884, to Samuel Evans and his wife Jane McLachlan.
Kate's father came to the city as an Irish immigrant. There, he would work as a Private in the 58th Brigade, and probably met Kate's mother Jane at the beginning of the 1880s in the city. The family had (at least) 11 children, and after many moves, they came to Paisley, where Kate Evans spent her childhood.
During Kate's teenage years, the family moved around different parts of Glasgow before they eventually moved to the Castle Semple estate in Lochwinnoch, Renfrewshire.
In one of the census reports, Kate's father's occupation is recorded as 'cycle manufacturer'. Other addresses that appear to have a connection with Kate Evans' story throughout the years are: 140 West Graham Street (situated in Glasgow's West End, walking distance from Glasgow School of Art), 1 Gladstone Place in Anderston and 341 St. Vincent Street.
In one of her many travel documents, Kate is described as being between 4'11'' and 5'0'' tall, brown-haired and fair-skinned with blue eyes. Nothing about her appearance was deemed 'remarkable'.
Kate Evans occupied several roles in the suffrage movement in Scotland, and seems to have been very artistic. A number of sources state that she tried to become a famous actress, and used her talent and her singing in order to raise funds for the Women's Freedom League (WFL) in the Glasgow and Paisley branches. In 1910, it is recorded that she gave a concert as well as readings at a meeting of the Glasgow branch. The quality of her concert was described as a "wealth of genuine talent and variety" and her reading of How Bridget Flanagan 'Rushed' the House of Commons sent "the audience into uncontrollable fits of laughter". During an engagement at the Grand Theatre in Croydon, London, England, she is said to have recited one of her very own compositions (The March of the Cameron Men) at a Crown WFL meeting.
In order to boost her career overseas, she took a break from feminist activities in 1912, when she travelled to New York for an acting engagement with her sister Millicent. Both had been given roles in A Scrape o' the Pen, written by the Glasgow-based playwright William Graham Moffat. He and his wife Maggie were frontline supporters of the suffrage movement in the Glasgow area. Kate Evans had a longstanding friendship with the Moffats, even years after women in the UK had been granted the right to vote. In one of her travel documents from 1920, she is recorded as travelling together with the Moffats from Canada to New York with a subsequent joint return to Scotland. She and the Moffats had even lived in the city of Toronto "permanently" for quite some time prior to the departure.
Kate was also friends with other remarkable figures, such as the actor Ivor Novello and his family. In addition to an article written about his mother and New York-based vocal teacher Clara Novello from 1926, another article by Kate Evans can be found in the The Vote edition from 10th December 1910, in which she describes the Glasgow WFL shop on 302 Sauchiehall Street.
In a 1917 edition of the suffragette newspaper The Vote, she was named as the Honorary Secretary for the Women's Freedom League branch in Glasgow on 212 Bath Street. In this role, she made various appearances on stage on behalf of the WFL in the Glasgow and Paisley area. She was also the election agent for the suffragette Eunice Guthrie Murray in Bridgeton, Glasgow, in 1918, making her the first female Scottish political agent. Unfortunately, Miss Murray did not win.
In the 1920s, Kate migrated to the United States (as did several of her sisters) and extended her visas several times. She did not achieve success as an actress or singer, but became a secretary and later a governess in St. Albans, Vermont, USA. Despite her migration she evidently stayed in contact with the WFL Glasgow branch, as she published an article in Voteas late as 1926.
Unfortunately, records about Kate become more sparse after the 1930s, but we do know that she gave an interview to the BBC's radio programme Woman's Hour in 1966.
Kate Williams Evans, the Welsh Suffragette
Kate Williams Evans was born in late 1866 in Llansantffraid, Montgomeryshire, Wales, to William Dorsett Evans and Mary Williams. She had four siblings; one brother and three sisters.
Kate Williams Evans came from a family with a longstanding tradition of owning and inheriting land, mostly for the purpose of farming. In the 1870s, her family started occupying a place in Llansantffraid-ym-Mechan called Bod Gwylim. William Dorsett Evans became a successful farmer whose estate would grow continuously.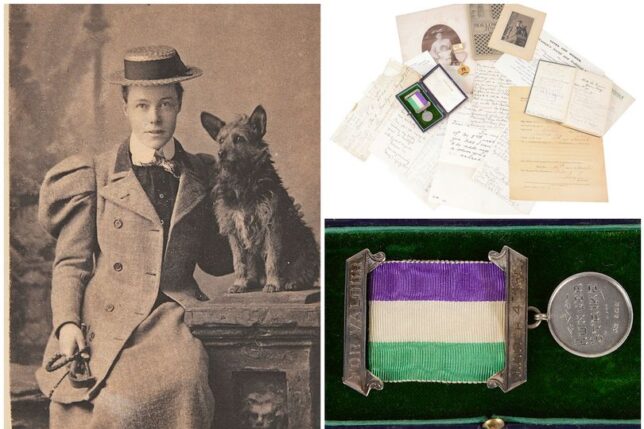 In July 2018, some of her personal belongings were auctioned in Wales. The auction attracted media attention, resulting in Kate's family discovering new details about her life, including a very brief account of her involvement in the suffrage movement.
In the 1890s, Kate had been staying in Paris for a considerable amount of time when she first heard about the WSPU. Upon her return to the UK, her involvement increased. It is reported that her parents were very unhappy about her interest in suffragist ideas, not to mention her militant activities, however we do know that she returned to the family estate Bod Gwylim in later years.
She certainly seems to have stayed in touch with her sister Margaret (nicknamed 'Meg'), who gifted her a book with signatures from different people in 1909. On the same pages, signatures from frontline suffragettes such as Emily Wilding-Davison and one of the Pankhurst sisters can be found – an indicator of her contact with the higher echelons of the WSPU as early as 1909.
In 1911, Kate was a visitor in the household of a mysterious widow from Yorkshire named Fanny Grey. The address they were recorded at is 8 Douglas House Maida Hill West in Paddington, London, England. The reason for Kate's stay is unclear, however it may certainly be connected with the suffragette action of refusing to be part of the 1911 census records and going elsewhere so as not to be recorded. She is also recorded as a donor to the WSPU this same year.
On 4th March 1912, she was arrested in London for "malicious damage". An edition of The Vote(15 March 1912) reveals that she had broken the windows of London Government offices along with other suffragettes and, on being caught, was sentenced to two months of hard labour. Eventually, she served 54 days in Holloway Prison.
Details about Kate's experiences of incarceration were revealed by her family earlier this summer, when some of her suffragette-related belongings were auctioned in Wales. Amongst  them is a hunger strike medal, so we can perhaps deduce that during her stay in Holloway, she must have refused food and, following this decision, must have been fed forcibly.
Another item in the list of auctioned memorabilia is a letter by her fellow inmate Sarah Benett (whose signature can also be found in the book Meg gave to Kate in 1909!). Following Kate's decision to go on hunger strike, she seems to have been sent to Sarah Benett's address in order to recover. This is described in a letter written by Sarah Benett to her maid Jane, in which Sarah instructs Jane to look after Kate as if she were "an invalid".
As well as Sarah, other members must also have had fond feelings for Kate, evidenced by the heartfelt letters that the WSPU and its members sent to her and her family.
After Kate left Holloway prison, some of her close contacts, including the suffragette Dorothy Evans, remained there. Upon her release, Kate sent her flowers for which Dorothy would send her a letter in return: "Your flowers have been such a joy to me through a very strenuous time. Now I am getting some mental and spiritual peace, though my body is suffering."
In March 1912, suffragette inmates of Holloway embroidered a tapestry with their names and wrote poems which were later published as The Holloway Jinglesby the Glasgow branch of the WSPU. Kate herself is not part of the tapestry, but she did contribute three poems to The Holloway Jingles, two of which are called "Who?" and the third "The Cleaners of Holloway".
In August 1913, she presided over a meeting of the Women's Freedom League (WFL) in her hometown of Llansantffraid, Montgomeryshire, Wales. In this meeting, she gave a talk on the differences between the WSPU and the WFL in terms of policy and militancy – it is possible that, following her horrific experiences at Holloway, she may have left the WSPU and joined the less militant WFL instead. In other articles from the WFL newspaper, The Vote, she is described as a brilliant and very charming hostess, who will go to great lengths for the cause. For several years, she stayed an active member of the Welsh Montgomeryshire WFL branch and is recorded at meetings as the chairperson right up to 1917.
In 1939, Kate and her sister Margaret were recorded as residing alone together at their parents' estate Bod Gwylim in Wales, where they both stayed until their death. Kate died on 2nd February in 1961. Her ashes, and those of her sister Margaret, are interred in the same grave.
You can find out more about Kate Williams Evans's poetry at Glasgow Women's Library, where we have in our collection a book called Literature of the Women's Suffrage Campaign in England, by Carolyn Christensen Nelson.
Kate's personal belongings which were recently auctioned were bought by the National Museum of Wales.
My research into the two Kate Evans revealed the contributions of two British women to the suffrage movement. Although they led very different lives, each of them left their own individual mark on women's history. Both eventually became important members in their local WFL branches and now, more than ever, deserve more recognition.
 Jeanette Lang, GWL Intern
SOURCES:
"A Pioneer Woman Choral Conductor." In: Vote. 21 May 1926.
"'A Scrape o' the Pen' Company." In:Vote, 7 Sep 1912.
Admin. "Suffragette Collection Set To Spark Interest in Surrey Saleroom." Antique Collecting, antique-collecting.co.uk, 26 Jun 2018. Accessible online: https://antique-collecting.co.uk/2018/06/26/suffragette-collection-set-to-spark-interest-in-surrey-saleroom/. Last accessed: 09 Aug 2018.
"An Excellent Concert in Glasgow." In: Vote, 23 Nov 1917.
BBC. Light Programme, Issue #2243. 7 Nov 1966. Accessible online: https://genome.ch.bbc.co.uk/schedules/light/1966-11-07. Last accessed: 09 Aug 2018.
"Branch Notes." In: Vote, 10 Feb 1912.
"Branch Notes." In: Vote, 3 Mar 1916.
"Branch Notes." In: Vote, 2 Feb 1917.
"Branch Notes." In: Vote, 6 Jul 1917.
"Branch Notes." In: Vote, 14 Sep 1917.
"Branch Notes." In: Vote, 21 Sep 1917.
"Branch Notes." In: Vote, 19 Oct 1917.
Dodd, Mead. The Best Plays. 1933.
Findmypast.com (for census records, birth and death certificates and travel documents)
"Forthcoming Events: W.F.L." In: Vote, 09 Mar 1917.
"Forthcoming Events: W.F.L." In: Vote, 09 Nov 1917.
King, Elspeth. The Hidden History of Glasgow's Women: The THE NEW Factor. Mainstream Pub., 1993.
"Montgomery Boroughs Campaign." In: Vote, 16 Apr 1915.
"Montgomery Boroughs Campaign." In: Vote, 02 Mar 1917.
"Montgomery Boroughs Campaign." In: Vote, 06 Apr 1917.
"News Of an Old Member." In: Vote. 26 Sep 1924.
Powys-Land Club. Collections Historical & Archaeological Relating to Montgomeryshire, Volume 4.
"Scotland." In: Vote, 19  Oct 1917.
"Scotland." In: Vote, 26 Oct 1917.
"Scotland." In: Vote, 02 Nov 1917.
"Scotland." In: Vote, 09 Nov 1917.
"Scottish Notes." In: Vote, 08 Oct 1910.
"Scottish Notes." In: Vote, 08 Apr 1911.
"Scottish Notes." In: Vote, 15 Apr 1911.
"See Our Sale and Money! Money! Money!" In: Vote. 06 Apr 1917.
"The Glasgow Centre." In: Vote, 10 Dec 1910.
The Suffragette. 31 Jan 1913.
"The Keystone of Health." In: Vote, 8 Aug 1913.
Theatre. The Theatre, Vol. 16. Meyer Bros. & Company, 1912.
"This Morning's Gossip."Daily Record, 20 Nov 1918.
Vote. 02 Mar 1917.
Votes for Women. 27 Oct 1911
Votes for Women. 15 Mar 1912.
"Votes for Women Contributions Fund to the 250,000£." In: Votes for Women, 27 Oct 1911.
"'Votes for Women' Fund." In: Votes for Women, 3 Sep 1915.
"Who Began Militancy?" In: Vote, 28 Mar 1913.
"Women's Freedom League: Eleventh Annual Conference, February 23 & 24, 1918." In: Vote, 1 Mar 1918.