Last Tuesday we had our second session of the Book Picnic! So exciting! And again it was filled with amazing new recommendations that we want to share with you.
Daring to Drive – Manal al-Sharif
A very inspiring memoir, written by a Saudi-Arabian woman who dared to drive. She challenges rules and breaks the taboo that limits all women in Saudi Arabia. In a sharply observed memoir she captures the difficulty of breaking free from the chains of a restrictive society. Indoctrinated from a very early age on that women are less valuable than men, the reader takes part in her journey,  follows her as she frees herself from the claws of this society.
Recommended by Gabrielle
The Girls: Sappho Goes to Hollywood – Diana McLellan
A 2001 biography about how lesbian and bisexual women shaped Hollywood. Each chapter is dedicated to one woman, ranging from Greta Garbo to Marlene Dietrich. The book describes how these women formed their own community, a close circle, in order to protect themselves from a male-dominated industry. It portrays the fixed roles for women during this time and the double standards that were applied. Interestingly, the book focuses more on their private life than on their actual achievements in the early days of Hollywood.
Recommended by Paulina
The Hearing Trumpet – Leonora Carrington
Leonora Carrington is an artist who employed a large variety of art forms. Despite the fact that she is more known for her surrealist art works, her literary legacy should not be forgotten. Equally influenced by her surrealist vision, this short novel tells the story of a 92-year old English woman, Marian Letherby, who moves to Spain. Nearly deaf, she receives a hearing trumpet from one of her friends in the village and overhears things she wasn't supposed to hear: her family wants to send her to a retirement home. Marian is an incredibly funny and feisty character, proud of her beard; her story is full of liberty and humour. A quick and amusing read.
Recommended by Rosie
The Visitors – Rebecca Mascull
Rebecca Mascull's debut novel is set in the Victorian age and the protagonist is a deaf-blind girl called Adeliza Golding who is caught in her own mind during an era that looked down on people with physical disabilities. Her only means of communications is through her ghosts, 'the visitors'. One day, she meets a new friend, Lottie, who shows her how to find her own way to communicate. Inspired by real characters, this novel transports you back in time and gives you an idea of how it must have been to live in this period.
Recommended by Elaine
The Little Red Chairs – Edna O'Brien
Edna O'Brien's most recent novel starts in rural Ireland. A stranger comes to a small village and from the start everyone is mesmerised by this self-proclaimed healer. Disguised as a sexual therapist he charms the women and fascinates the men. But in the course of the story the reader slowly realises that there is a much darker background to his story, connected to the gruesome siege of Sarajevo. In her 'chilling masterpiece' Edna O'Brien manages to grip the reader's attention by using a vigorous style of writing with breath-taking twist and turns.
Recommended by Pauline
Nobody told me – Holly McNish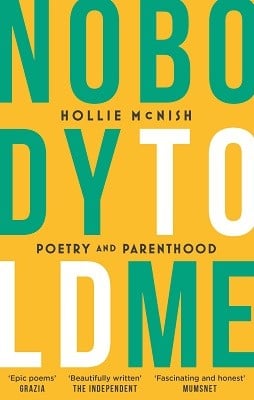 This collection is part diary, part poetry about Holly McNish's experience of becoming a mother. When she had her baby she did not feel prepared for what was expected of her. This book offers a different perspective and opens up a whole new conversation about things that are not openly addressed in the public discourse. An example being the politics surrounding the topic, such as working, breast-feeding in public or consumerism. An honest book that shares both the positive, enriching aspects and the difficult sides of motherhood.
Recommended by Emily
Bluets – Maggie Nelson
A book full of curiosities around the colour blue. Stories, objects and personal histories are collected in this wonderful book. The trigger of it was when Maggie Nelson was left heartbroken and from this the project arose. The process of falling out of love is mirrored in this book. There are points that make you smile, others make you cry and some very interesting facts about the colour blue. The fragments are not following any particular order, it rather reflects the process of finding your own way out of grief.
Recommended by Kirstin