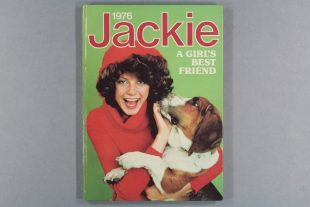 Hello there! Do you remember having a favourite magazine when you were young? Were you a Bunty, Diana, Jinty, June or Judy girl? Maybe you preferred Pink or Patches, My Guy or Boyfriend [or maybe girls mags left you cold and it was the Hotspur, Beano or Dandy for you!] . If you were a reader of girls magazines in the 70s or 80s there were so many to choose from! My name's Holly and, as a student at Stirling University on the Gender Studies MSc, I have been fortunate enough to benefit from the strong ties that have developed between the university and Glasgow Women's Library, putting me in the fortunate position of having access to the latter's extensive collection of Girls' Annuals for the next couple of months.
In my time with GWL I'll be focusing in particular on the much loved "Jackie" and, assuming I can tear myself away from the many quizzes, avoid getting too embroiled in the short stories and not get carried away trying out the various tips and suggestions for self-improvement, I will be putting together a subject guide for the annuals, writing a few blog posts about what I find and …drum roll please…. interviewing Gayle Anderson, writer of the well-known advice column "Cathy and Claire" (yes – it was, after all, just the one person giving all the advice!).
Before I make a start, however, I have to come clean. Back in the day (we're talking 70's / 80's here) I wasn't really into Teen Magazines as such. I favoured the music mags and was a regular reader of "Smash Hits". In the days before the internet, I loved that they published the lyrics of songs and really enjoyed learning the words so I could sing along (badly!). It isn't that I am totally unfamiliar with the genre, I was given the odd annual for Christmas, I'm sure, it's just that they didn't appeal to me at the time. Strangely, however, when I was offered the chance to delve into the world of "Jackie-land", I was honestly excited by the prospect, largely due to the reactions of so many women of a certain age I talked to about it: a mixture of glee and embarrassment! Transported to a more innocent – or naive – age, laying on their beds, surrounded by pinups of their favourite pop stars, flicking through, in no particular order, the photo stories full of jealousy and insecurity; the quizzes to tell you of your strengths and weakness; the beauty tips (yellow eye shadow!) all designed to help you get that perfect boyfriend: (alledgedly, at this time) 'what every girl wants'.
So why the embarrassed reaction now from those one time fans of Jackie? Maybe it's because the now older and wiser women remember how much time they spent (wasted?) worrying about how they looked and how they'd be seen by the opposite sex.[1] On the one hand, it can be argued that these magazines provided a space where girls' experience was at the centre, where their problems were given importance, where their needs were forefront. On the other hand, perhaps they simply served to reinforce gender stereotypes and help maintain a status quo in which women's happiness depended on men.
Whether Jackie was your best friend or your worst enemy, this best selling magazine was a weekly guest in the homes of thousands of young girls for nearly thirty years. I hope you will join me in my search to find out what messages are hidden in its pages.
[1] In all the Girls' annuals I have looked at, none of them included any mention of same sex relationships. Although homosexuality was not decriminalised in Scotland until 1980, lesbianism was in fact never criminalised.
References:
Ballasted, R., Beecham, M., Fraser, E. and Hebron, S. (1991) Women's Worlds: Ideology, Femininity and the Woman's Magazine. The Macmillan Press Ltd.: Hampshire and London.
Hermes, J. (1995) Reading Women's Magazines. Polity Press: Cambridge.