Hi! I'm Charlotte, 25, currently doing an MLitt in Gender Studies at the University of Stirling. For my research placement, I am delving into the world of the 1990's Scottish feminism (which is a bit daunting, as I'm Norwegian). This is 1 of 4 posts for my blog-series revolving around the magazine I'm focusing on in my placement: Harpies & Quines. In this post, I am using new and exciting materials sent to GWL from the Women's Marches that took place on 21st January 2017. My blog-series aims to use the magazine as a hook — drawing on themes, organisations, people, and publications I have come across. This post is dedicated to the first two issues and the importance of re-reading feminist media.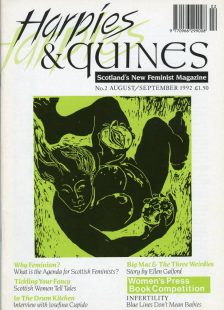 Glasgow 1992: Harpies & Quines was released to the public for the first time, a feminist magazine distributed independently all over Scotland. 12 issues are held in the Glasgow Women's Library archives. The first issue is like a test on the audience and the readers, encouraging feedback through letters and phone calls. The 2nd issue's first article "Why Feminism?" is a sort of response to why H&Q exists. "I think we should tear the stereotypes to shreds and explode the myths about feminism. I'd like to see H&Q used as a forum for Scottish women to discuss anything and everything under the sun we want to discuss, but it is different from the traditional women's magazines." (page 1, H&Q, No 2. August/September 1992)
Women's March 2017: Approximately 4.8 million attended marches and rallies all over the world, a reaction to Donald Trump's inauguration, and his blatant sexism and racism. Many feminists attended, but more importantly, all these people marched to defend their own rights, and rights of others. On 21st January 2017 a 'pussy-grabbing' white cis-man billionaire officially became president in USA. This election's media coverage has been a part of a normalising process, which has shown that a sexist, bigoted man can become anything he wants, without real repercussions. In the 1990's, feminist media like Harpies & Quines found their role important in challenging social norms and to fight back:
"We will campaign for the rights of women, snap at the heels of chauvinists, encourage secret stories to be told and take a cool, hard look at the reality of our lives. Let's face it, being a Scottish woman is often an uphill battle but it doesn't have to be a lonely, frightening, boring or humourless one." (Inside cover, H&Q, No. 1 May/June 1992)
In times like these, this passage is important to keep close to heart – not just for our American friends, but for everyone's rights which are at stake every day. Trump is a cherry on top, the tip of the iceberg in a world where we are still fighting and defending our rights.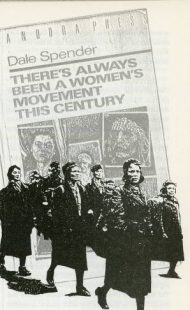 Thankfully, even in today's context, I can go to GWL to gain some courage and motivation by flicking through Harpies & Quines. An excerpt from a reader's letter (Sarah in Edinburgh) mirrors my excitement of reading a feminist magazine: "I found all the articles interesting and feel that a wide range of subjects are being covered and thankfully none to do with beauty or hair removing cream!!!" (page 45, H&Q, No 2. August/September 1992)
Harpies & Quines does so much more though – it is an excellent place to find information and can serve as a spring-board for further reading on women's movements, in for example "The History Lessons That I'd Like" in No 2, p. 42-44. Elspeth King, author of several books on Scottish Women's History and Scottish feminism, expresses her joy in a reader's letter too! And, whoever claimed feminists can't take a joke or have no sense of humour, The Clitoris Awareness Column, Dinah Diner, Agony Aunt Veronica, and Steamie Tales will prove them wrong with some witty feminist banter.
As far as first impressions are concerned, Harpies & Quines is making a good one. Not just for me today, but also for the readers of the 6,000 copies that were sold by the time the second issue was sent to print in 1992!
Further reading, all held by GWL:
Spender, Dale. There's Always Been A Women's Movement This Century. (1983) Pandora Press.
King, Elspeth. The Hidden Histories of Glasgow's Women and The Scottish Women's Suffrage Movement.
Harpies & Quines Archive at GWL.
Feeling inspired?
Come along to our event at GWL on 21st February 2017: In Her Shoes – Acts of Activism and Rebellion. In this object handling session we will explore women's creative responses to racist, disablist and homophobic discrimination and prejudice using posters, zines and artworks from our collections.
Did you go to a Women's March? Do you have any posters, banners or other protest materials to spare? GWL will happily accept them!