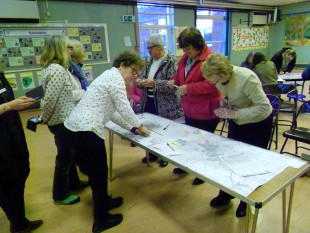 Glasgow Women's Library have been working with the East Dunbartonshire Leisure and Culture Tales and Trails project and local people to uncover the hidden stories of women in East Dunbartonshire. At sessions in thirteen towns throughout the area, we've been chatting to local residents about women's history and heritage and mapping and recording stories of well-known and unsung heroines. Our latest session at Milton of Campsie in April was attended by a group of women who had a wealth of local knowledge and some interesting stories to tell. One woman mentioned was Euphemia Irvine, the first woman minister in Scotland to have responsibility for her own church. We also heard that Euphemia published a book – we're hoping to find a copy for the GWL collection.
Morag Campbell who attended the session, spoke about her mother-in-law who worked as a welder in the local foundry during World War II and about the challenges she faced as a woman in what was seen as a man's job. Afterwards Morag sent us a copy of an original picture of her mother in law with the foundry team – she's quite easy to spot!
At all of the sessions, we have been creating hand made maps highlighting some of the women and stories which local people have remembered and these maps are being digitised and made accessible for all to see and interact with. The maps will form part of a larger online resource so that the stories and histories of local women will intersect with other local tales and trails.
The Tales and Trails project is a three year project supported by the Heritage Lottery Fund and Creative Scotland.