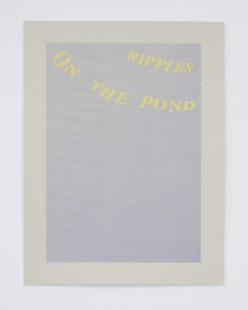 The Gallery of Modern Art
I attended the Gallery of Modern Art with the Young Critics, who attend events and then review them through various forms, including written critique, photography, and zine making. We were attending to see the Ripples on the Pond exhibition in particular. Ripples on the Pond features many of the GWL commissioned 21 Revolutions artworks. We were first given a tour that highlighted many of the interesting works being displayed, learning back story about the artists' technique or vision. It's so interesting that many of the pieces were found at the bottom of boxes, stored away. They would never have been displayed had the curators not diligently dug through their archives.
I tend to not be the best art critic, especially in regards to modern art, but one piece in particular took me by surprise. From a few feet back it appears to be simply a black mass on the canvas, and my first glance wrote it off as uninteresting. However, the story behind it grabbed my attention. The artist was inspired by the story of Isola Ferdinandea, a submerged volcanic island discovered when it suddenly appeared in 1831. When it rose above sea level, a four way dispute over its sovereignty began. However, before anything could be resolved, it disappeared back into the ocean. The idea of this island suddenly appearing, prompting all of these men to threaten war over it, and then just as suddenly disappearing, making all of their fighting seem rightfully ridiculous, is incredibly amusing. With that story in mind, I took another look at the work. When you get up close to it you can see that it is actually done with pencil, and there is a lot of intricate detail work that is lost when you step away.
There are some really lovely works at the GOMA, and I recommend that you read the placards on the sides of them. The stories really do make a difference.
(You can also view interviews with some of the 21 Revolutions artists here)
Trailblazers: The Journey of the Boundary Riders
After my journey out into the city to the GOMA, my next event was a lot closer to home. On March 8th I attended the Trailblazers: Journey of the Boundary Riders event at GWL. Rachel Dawick presented her work, created via three years of research about trailblazing women who left the UK to start new lives on the other side of the world. These are not your typical origin stories, instead they include songs, as well as a book and a show. There are six women highlighted: the washer woman, the fraudster, the magician, the gold miner, the prostitute, and the missionary.
At first it's easy to just float along enjoying the music, but it's important to remember that these were real (brave) women! I enjoyed the pictures that Dawick sourced of the women, which helped make them seem more real. Their accompanying songs are very well done, and there is definitely a certain style or tone that differentiates them all and matched them to their muse. Dawick's voice is incredible, very smooth and soothing, and my only complaint was I wish she had had more time to sing!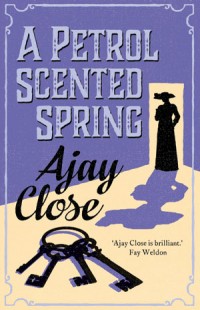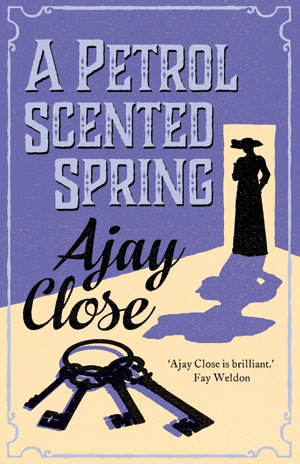 In Conversation with…Ajay Close
Another event attended with the Young Critics, In Conversation with…Ajay Close, presented a wonderful opportunity. We read her book "A Petrol Scented Spring" in preparation, and it made her comments that much more interesting. The book itself was unique, covering the suffragette movement and the force feeding done at Perth prison, with fictional and imaginative narrative.
Ajay began with a Powerpoint presentation about the women's suffrage movement in Scotland, as well as the force feeding. It was a very eye opening presentation, full of actual photos of fires set by suffragettes, and tools used in the prisons. Reading about all of that was one thing, but I think it was also important to see the photos, as it added another level to the understanding of what injustices had been done to those women. After her presentation there was allotted time for questions, which was my favourite part. GWL's Donna Moore, a writer herself, guided the talk and had many wonderful questions for Ajay. They ranged from writing technique to what her characters would have in their bathrooms (surprisingly telling). It's always interesting to hear directly from a writer after reading what they have produced.
"They thought we were just marriage breakers…": The History of Women's Aid in Scotland
In January I attended a training day put on by Scottish Women's Aid and I was thoroughly shocked by the statistics, but very inspired by the work they have done. When I saw this event was going to be held at GWL I knew I would sign up. When I arrived we were told that unfortunately the woman who was going to lead the presentation was out sick, but there were still people associated with the project who could give us a short presentation. We learned a bit about the history of Scottish Women's Aid, and what the project hopes to accomplish by collecting the stories of women who were involved over the last 40 years.
The most interesting aspect, however, occurred when the presentation was over. There was time allotted to have a chat, and it turned out that two women attending had worked for Scottish Women's Aid in the 80's, and another woman was currently working at a centre in Edinburgh. This sparked very interesting conversations about how some things had changed, and others stayed the same, over the last 40 years. It was almost like seeing the project come alive before our eyes, and the stories these women had were heartbreaking. Despite the hard work that has been done, and the light that has been brought to domestic abuse, the fact remains that it continues to be a prevalent issue to this day. The women who spoke about their experiences shed light on the advances made, as well as the societal aspects that still have yet to be changed.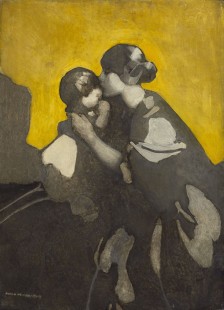 The Gallery of Modern Art: Modern Scottish Women
My visit to the Edinburgh Gallery of Modern Art was a nice little field trip with the Young Critics. We attended to see their Modern Scottish Women exhibition, which is on until the 26th of June. Each room exhibits artwork made in a certain period of time. I enjoyed this structure as it allows you to see the variations and similarities of art made during the same time in history. During the years that war had struck, you can visually see the impact on the artists and their works.
Like our visit to the GOMA, this trip also began with a guided tour. However, the focus also extended to the women's personal lives, and it was heartbreaking how many of them had to give up on their art in order to get married, per the "marriage bar" (which was not widely lifted until the 1940's). There is a remarkable amount of talent on show at this exhibition, and the variation in style is astounding. For someone who does not attend art shows very often, it's a dazzling show of what women have and can accomplish. Light must be brought to these accomplishments, which, through history, have been (and continue to be) pushed into the shadows by men.
One piece that stood out to me in particular was a self-portrait entitled "The Silk Dress" by Eleanor Allen Moore. Something about the attitude, with her hand cocked on her hip and a cheeky smile, grabbed me. It's done in a beautiful style, with sweeping, gauzy brush strokes along the sides of the dress, and more detailed attention on the bustle. The colours are more dulled, although still full of life, but only work to bring the focus to her bright red lips. I also love that her eyes stare out of the portrait, perhaps a bit sceptically, as if she sees us viewing her. Where men often paint women as demure, fragile things, their eyes cast delicately downward, Moore stands up straight and challenges the viewer, purse in hand.
There were many more eye catching pieces, wonderful backstories, and strong women at the exhibit and I strongly urge you to attend it yourself!
Where have you been this month? Any GWL exhibitions or shows that caught your interest and sparked your imagination? Let us know in the comments!