Mixing The Colours – SCDC anti-sectarian mentoring/co-inquiry programme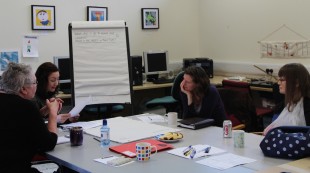 The Scottish Community Development Centre (SCDC) is offering organisations running, or intending to run, anti-sectarian initiatives the opportunity to be supported by Mixing The Colours as a mentor experienced in the anti-sectarianism field.
Working in the sectarianism field can be tough and many workers involved in this programme are "lone workers" on sectarianism within their organisations. This project looks to share learning, experience and practice ideas between projects by providing mentoring support from experienced practitioners combined with opportunities for learning and practice development.  SCDC would particularly like to work with projects that are interested in collaboratively developing community-led approaches to tackling sectarianism.
If you are interested in the mentoring opportunity please visit http://www.scdc.org.uk/news/article/scdc-anti-sectarian-mentoringco-inquiry-programme/.  Interest must be registered no later than 12th June.