Our volunteer Gillian reviews a conversation between novelist and 21 Revolutions
contributor Laura Marney and GWL reader in residence Magi Gibson, which took place on Thursday 14th August 2014. 
T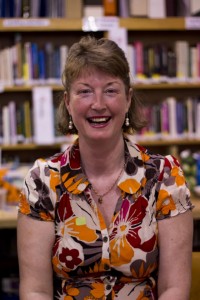 here have been several writing events and workshops recently – facilitated by writer in residence Magi Gibson – at the Glasgow Women's Library, in which would-be writers can gain much needed inspiration for their own writing. It's always very encouraging to hear from writers who have already established their name, and are making their own mark on the book scene.
The conversation between Magi Gibson and Scottish writer Laura Marney covered previous material such as "No Wonder I Take A Drink", an account of intergenerational drinking habits, and to what extent these habits are hereditary or simply the indication of a particular era. However the focus in this conversation was on the book's sequel, "For Faughie's Sake", also set in the Scottish Highlands in a tight-knit community, in the fictional village of Inverfaughie). The protagonist has by this stage become ever more worn down, with regards to local and national politics, and in addition, a film crew coming to town to disrupt the peace.
The extracts read aloud by Marney reveal a narrator whose ground-level perspective of the big and small issues affecting the local community show up the frequent pettiness of politics, and that for the most part, how many people who live in a small rural community such as Inverfaughie simply want a simple life, even if the glamour of Hollywood, or elsewhere, may beckon.
Another in-house conversation with Palestinian poet Maya Abu Al-Hayat, will take place on Wednesday 20th August from 2pm to 3pm. Find out more here.
Laura Marney's fiction can be borrowed from GWL.  Join here for free! And Laura's short story for 21 Revolutions, Mango, can be downloaded here for free.