On Friday the first in our special series of Badges of Honour visits took place in the Library. It was a rare opportunity to dive into the badges housed in GWL's vast collection. The session began with a look at the trailer for the project. This exciting video showcases some of the oral history interviews that have captured since the project was launched in May this year.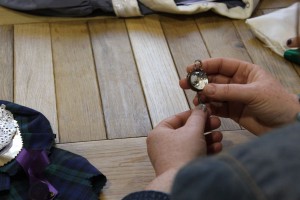 The interpretation of 'badges' has been very loose in order to incorporate the variety within the Library's collection. For example, we include our treasured Suffragette brooch and pocket watch within this definition. Although they do not look like a traditional badge, both of these objects share a common trait with badges: they were worn with honour and to broadcast a message. A lively discussion of the meaning of the Suffragette pocket watch took place. The centre of the watch includes yellow roses which has a number of meanings. Some of the American suffragettes adopted a yellow rose as a symbol of their cause. Yellow roses can also mean friendship. What a lovely thought that this pocket watch might have been exchanged as a gift between two friends that met during the women's suffrage campaign.
There was a leap forward as the group discussed badges from the peace movement collection, the Scottish Abortion Campaign and the anti-apartheid campaign. One group member made a comment about social media and how its use might have replaced the role of badges in today's world. We pondered if badges would have still have been used during the above campaigns, if the World Wide Web was in use.
Attention turned to the mysterious blue dress displayed on the table. This wonderful costume is from the National Museum of Roller Derby and featured in the opening ceremony of the Olympics in London last year. It provided a great display 'cushion' for the Glasgow Roller Derby badges that have been donated to GWL's collection!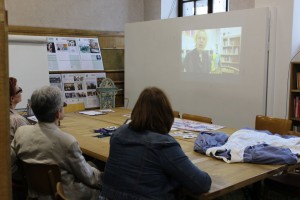 The first session provided some lively discussions about badges and the emotions they can inspire. We would love to hear more about people's badge collections and their stories behind them. You can get in touch with the Library here.
There are plenty more visits to come, as part of the Badges of Honour project. The next visit is to People's Palace this Wednesday (12th June) 2-4pm – booking is essential. You can find out more about future visits by clicking here. Spaces are limited so book up as soon as you can!