In the fourth of our new Glasgow Women's Library podcasts, Elizabeth Reeder reads her new story, Everyday Wintergreen, and talks about the inspiration behind the work.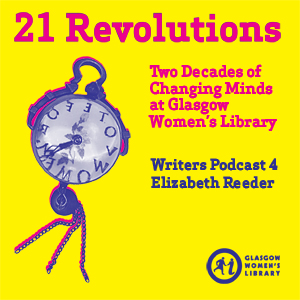 21 Revolutions: Two Decades of Changing Minds at GWL
To mark the Library's 21st anniversary, and with the support of funding from Creative Scotland and Museums Galleries Scotland, GWL commissioned 21 women writers and 21 women artists to create new work inspired by items and artefacts in our collections. These new pieces of writing have drawn upon campaign badges, knitting patterns, Suffragette memorabilia, album covers, recipe books, feminist newsletters and other gems found within GWL's thousands of archive boxes or amongst the hundreds of Library shelves.
Moneses Uniflora, Amanda Thomson's artwork, as mentioned by Elizabeth Reeder in the podcast, can be seen as part of the 21 Revolutions exhibition.
Find out more about the 21 Revolutions here.
Listen to the podcast now
You can play the podcast below (or download it). You can also subscribe to the podcast feed here, or through iTunes.

Podcast: Play in new window | Download