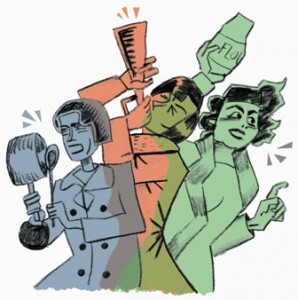 Following the huge success of our West End Women's Heritage Walk and Map the Women Make History team has made history again in developing the first podcast version of a women's heritage walk in Glasgow. This fantastic resource was launched on the Centenary Celebration of International Women's Day
As part of the West End Festival Women Make History will be running the West End Women's Heritage Silent Walk on Sunday 19 June 2011 at 2pm
This podcast reveals a hidden history of the West End: from pipe-smoking forewomen to revolting schoolmistresses. A unique and inspiring insight into the hitherto unsung women who made the West End. Just visit the website to purchase a copy for the introductory price of £3.
West End Women's Heritage Silent Walk
Meet at Kelvingrove Museum and Art Gallery
Sunday 19 June 2011, 2pm
Step One: Download the West End Women's Heritage Podcast here
Step Two: Take your MP3 player, iPod, phone, or whatever device you have the walk saved on, and a set of head phones, and gather outside the Kelvingrove Art Gallery at 2pm on Sunday 19 June 2011.
Step Three: Follow the walk at your own pace, taking in each stop and meeting up with the group at various points along the way.
Step Four: Meet the stars of the podcast for coffee and questions at Kelvingrove Art Gallery from 3.30pm onwards.
A unique opportunity to be one of the first people in Glasgow to experience a silent heritage walk. Please contact us to register your attendance so we know how many people to expect on the day.
If you would like any more information, please contact us online or call 0141 248 9969.
Click here for more information on our booking system and to join the library.
Download the flyer for our West End Festival 2011 Events here.