Poet and writer Magi Gibson is the Scottish Book Trust Reader in Residence at GWL.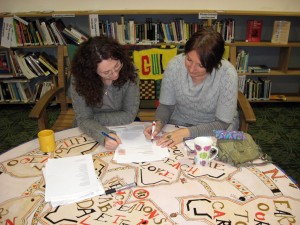 Magi's main role as Scottish Book Trust Reader in Residence is to encourage even more people to read, enjoy and explore the amazing collection of books at GWL. Readers can book a one-to-one session with Magi to discuss where they're at with their reading, as well as new areas they might like to try out. If you'd like to book a session with Magi, please contact us.
Magi, along with Wendy the librarian, also co-hosts Read, Relax, Recharge, GWL's wonderful lunch-time group for enjoying a range of interesting texts and poems, and discussing them in a relaxed and friendly atmosphere.
Magi keeps a look-out for the latest in interesting books in women's literature. She blogs regularly about books and writing, and her blogs are interactive, so wherever you are you can be in touch with her and be involved with what's happening on the busy bookshelves of GWL. An ambassador for GWL wherever she goes, Magi will also be leading one-off creative writing workshops at GWL from time to time.
More about Magi Gibson
Magi Gibson is a poet and writer. Her best-selling poetry collection, Wild Women of a Certain Age is in its fourth print run. Her Seriously Sassy books (Puffin) recount the trials and tribulations of 13 year old feminist and eco-warrior, Sassy Wilde. Originally from Kilsyth, Magi studied French and German at Glasgow University. In 2009 she was appointed the first Makar of the City of Stirling in 500 years and her poetry has been translated into several languages. She founded and runs Wild Women Writing Workshops in Scotland and Ireland.