A woman trapped in a tangle of power and control.
The Film
Charting a journey of survival and hope, Shifting Sands tells a story of a woman in an abusive and controlling relationship. The film shows the impact of coercive control on all aspects of her life.
Training Toolkit
The purpose of this toolkit is to promote a coherent understanding of coercive control and how to effectively support victims.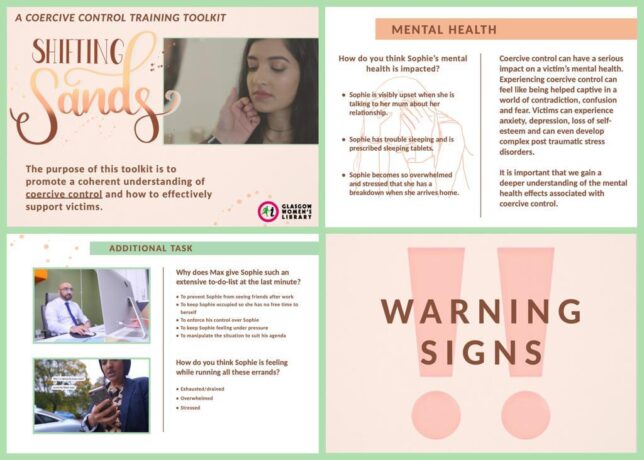 The training resource illustrates to participants what constitutes coercive control through exploring warning signs, the impact it can have on a victim's mental health and the role we can play as a society in order to eradicate domestic abuse.
Instrumental in devising the training resource is Mariam Ahmed, an Independent Domestic Abuse Specialist who has expertise in gender-based violence work for over 11 years with speciality in supporting Asian, Black and Ethnic Minority women. Special thanks also to GWL placement student Leanne Jeffrey in helping us devise the training toolkit.
Who is this training tool kit for?
The training toolkit is designed for organisations, educational establishments, voluntary sector and community groups to raise awareness of Coercive Control with their staff, volunteers, members and service users.
The training toolkit:
offers a step by step guide for debriefing after the film screening and highlights what warning signs to look out for in an abusive relationship.
illustrates the methods used by perpetrators to gradually break the will of the victim and eventually displaying total power and control through the stages of: grooming, charm, occasional indulgences, jealousy, isolation, exhaustion, degradation, distorted perception, enforcing trivial demands and threats.
indicates ways to offer support when you suspect someone is a victim of Coercive Control
draws attention to the legislation on Coercive Control and the types of evidence required for proving abuse of this nature in a relationship.
offers signposting to key organisations for advice and support.
We are pleased to offer this as a FREE resource in order for the toolkit to be more accessible, reach wider audiences, and, in turn, to allow organisations to play a pivotal role in combatting domestic abuse in their local communities.
The Training Toolkit includes:
Shifting Sands film link

The film is on Vimeo with an assigned password and 6 months access to start with.

Training Toolkit with 'How To Guide'

Both as PDF files.
The Toolkit can be shared with your group using a projector, printed handouts, or digitally through sharing your screen.
The 'How to guide' offers the facilitator step by step instructions on how to use the toolkit.

Evaluation Feedback form

Digital online form for Facilitators
A printable form for participants
We are keen to collate feedback on: your experience of using the toolkit; key issues highlighted in your group on Coercive Control; and suggestions on how to improve the toolkit.
To request access to the Training Toolkit please complete the following form:
Background
This is a grassroots film made by working closely with the local community of Glasgow Southside.
The project initially started in 2017 when Glasgow Women's Library and The Daisy Project worked collaboratively with local women's groups to explore and gather lived experiences of abusive relationships.
These stories came together in an evocative stage play called 'Her Spirt Soared: Stories of survival and hope from women moving on from abuse' performed at the The Kelvingrove Museum & Art Gallery and later at Tramway in 2018.  The women's groups, who were involved from inception to the end, gained skills in storyboarding, scriptwriting, audio / sound recording, designing and creating props with community artists and performing on stage.  This was an empowering experience for participants (many new to playwriting and performance) as it allowed them to adapt their own journeys of oppression and desperation into triumph and liberation. 
Following the introduction of the Scottish Legislation on Coercive Control in 2019, the play was adapted to focus on the Coercive Control elements of the story.
The new play 'Shifting Sands: A women trapped in a tangle of Power and Control', was initially performed at the Pearce Institute, Glasgow. After receiving positive feedback, we were keen to reach wider audiences. Later, working with Chocolate Film Productions, the play was adapted into a film and launched at Cineworld Silverburn for 16 Days of Activism Against Gender-Based Violence in November 2019.
It's been a truly enriching process for some of the participants to journey through the project; being part of the stage play, film production and featuring in the film itself alongside professional actors Manjot Sumal and Iman Hussain (who play the main characters Max and Sophie).
Supported by
Our work has been supported by:
Alison Thewliss (MP)
Humza Yousaf (Minister for Justice – Scotland)
Police Scotland
SafeLives
Glasgow South East Integration Network
Glasgow South Gender Based Violence Network
Glasgow Health and Care Partnership