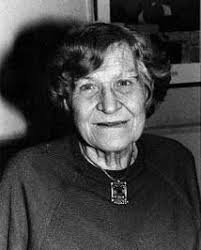 by Giovanna MacKenna
JESSIE McDONALD was born illegitimately in an Elgin slum, near Inverness, in 1916. She was taken from her much-loved mother – a domestic servant who turned to prostitution to survive – at the age of ten, and spent the following six years in an orphanage. Jessie's considerable academic talents were noted but she was denied a chance at further education as it was consider a 'waste' to lavish such an opportunity on a girl. She was sent into domestic service but suffered a nervous breakdown and spent a year in Aberdeen's Royal Mental Hospital.
After her release from hospital, Jessie was put to work on a croft on the shores of Loch Ness where the natural environment helped to heal her mind and inspire her talents.
It was in Abriachan that she met her husband, farmer John Kesson, and the couple spent 12 years as 'cotters' – farm tenants – with Jessie writing for magazines and the BBC to supplement their income. In 1946 The Scots Magazine commissioned her to write twelve articles about country living and, in 1947, the couple and their two children moved to London to pursue a career in writing.
Jessie's first book The White Bird Passes is largely autobiographical and tells of her childhood years with her mother. Glitter of Mica focuses on a close-knit rural community, and Another Time, Another Place describes the life of a young woman cotter. Jessie's career grew to include nature writing, poems and novels and she went on to create over one hundred plays for BBC radio.
"But the real storm, the furious conflict between the wind and the rain, was being waged high over the firth. For the earth itself never put up a fight against the vagary of such weather, but laid itself down, flat and desolate, in submission."

Jessie Kesson, Another Time, Another Place
Jessie's most acclaimed works center around the conflicts within ordinary women's lives, which she explores with clarity and poetic prose. She was highly thought of by her peers, including Nan Shepherd and Neil Gunn, and found popular acclaim after A White Bird Passes was adapted for television and Another Time, Another Place was made into a film. She contributed to and produced Woman's Hour on BBC Radio 4 and was awarded honorary doctorates to Dundee and Aberdeen Universities.
Jessie died on the 26th of September 1994, six weeks after her husband John, and their ashes were released on the banks of Loch Ness.
—-
Resources:
Follow this link for information on Scotland's Creative Writing Centre
Moniack Mhor's Jessie Kesson Fellowship