A hell-for-leather girl is a daughter always but there are better ways of doing things, women everywhere need not kneel at the altar of crepe-mist 'mystic' fancy wool, prize-winning knitting pins and Kellogg's Rice Krispies. Here's how Boadicea in all her glory is made.
Kirsty Logan, This is Liberty
In the first of the 21 Revolutions writers podcasts, Kirsty Logan reads her new story, This is Liberty, and talks about the inspiration behind the work. Listen to the podcast here.
Inspired by LungLeg 'Maid to Minx' album cover, 1997
LungLeg were an indie band from Glasgow, formed in 1994, and disbanded in 1999. They were known for a sparsely recorded stop-start kind of music influenced by C86 and riot grrrl as much as by post-punk bands.
"I saw the cover of Lung Leg's album 'Maid to Minx', featuring a badass lady wrestler in a skull-and-crossbones cape, and I remembered Graham Rawle's book Woman's World, a novel made entirely from cut-out words. Why write a regular short story, I thought, when I could use this chance to do something a bit different? I decided to 'write' a story about a female prizefighter from cut-out words: somewhere between fiction and visual art.
"I spent a joyful few days immersed in GWL's archives, photocopying pages from various 1950s artifacts: women's fashion magazines, girls' annuals and traditional Scottish recipe books.
"Next I cut out many, many words, got bored halfway through organising them into categories, and jumped right into trying to make a story.
"After a few days of this I found my point of despair, lying down among those 64 sheets of paper.
"My girlfriend found me among the photocopies and told me, essentially, to get a bloody grip on myself (everybody needs someone in their life who will tell them such things). So I did. As soon as I started sticking the words down it all came together, and I was finished the next day. The final product was four sheets of A4, made entirely of 1950s magazines, telling the story of a female fighter. And I'm really, really proud of it."
About Kirsty Logan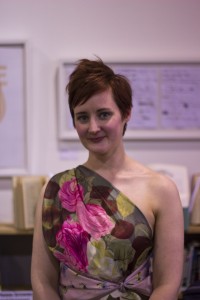 Kirsty Logan writes fiction, edits a literary magazine, teaches creative writing, and reviews books. She regularly performs at events around Glasgow; recent readings further afield include London and Copenhagen, with upcoming readings in Nairn, Edinburgh and Bristol. She read at the Edinburgh International Book Festival in 2010 and 2011, and will be reading there again this August.
Her short fiction has been published in around 80 anthologies and literary magazines, and broadcast on BBC Radio 4. She has won a New Writers Award from the Scottish Book Trust, the Gillian Purvis Award, and third place in the Bridport Prize. She is currently working on her first novel, Rust and Stardust, and a short story collection, The Rental Heart and Other Fairytales. She has a semicolon tattooed on her toe, and lives in Glasgow with her girlfriend.
Website: kirstylogan.com
Twitter: @kirstylogan