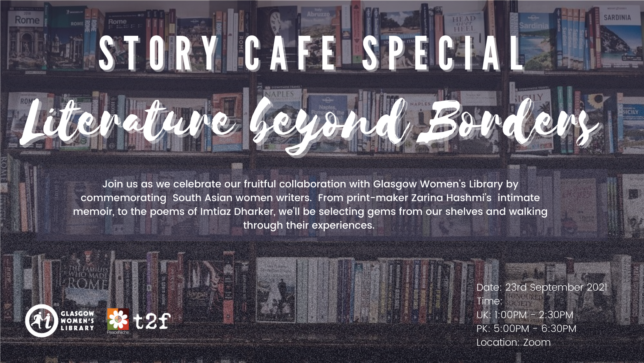 On the 23th of September, Glasgow Women's Library hosted the Story Café Special with the topic 'Literature Beyond Borders'. Over twenty-five participants came together in a virtual space to enjoy their individual cup of tea in good company and with fantastic pieces of writing. In line with the event's theme, the focus was on South Asian women writers and featured beautiful readings of Zarina Hashmi's memoir as well as Azita Givi and Imtiaz Dharker's poems, both in Urdu and English.
For this event, GWL's librarian Wendy Kirk and BME Women's Project Development Officer Syma Ahmed worked for the first time together with Shumaila Amjad from the community centre PeaceNiche in Karachi, Pakistan. This collaboration has resulted in a friendship that allowed a very enriching experience for both parties and made the first international Story Café even more special. An introductory video by PeaceNiche was shown to enlighten the work of the organisation. Hopefully, Shumaila can soon be welcomed at GWL in person to deepen the friendship and work on exciting things in the future.
Diving into the wonders of literature, passages from writer and artist, Zarina Hashmi (1937 – 2020), were read in both English and Urdu. Her work appeared not for the first time at GWL, as she was part of this year's 'Open the Door' festival, which was a celebration of women writers and artists. In the Story Café Special, we discovered a little more about her life and how glide lessons in Delhi introduced her to the feeling of freedom trough the act of flying. Zarina was born in Aligarh, India, but lived in many places around the world, like Paris and New York. In 1958, she returned to India in order to gain a degree in maths. This was a special opportunity for her, not many women could benefit from at the time. In this chapter of her life, she deepened her fascination for straight lines, which make up a reoccurring theme in her work. Apart from that, the idea of home, memory and displacement, count to some of the key aspects in her art.
We heard a passage from her memoire 'Directions to my House', in which Zarina describes her home in India when she was little. It was written when she was older and wanted to reflect on that time in her life. Additionally, she has always been very interested in the living conditions and customs of other people, which is also why her own life is subject to her writings. The selected passage from her memoire allowed an insight into her childhood home with descriptions of different parts of the house. It created a clear picture of her upbringing in those days and allowed the listeners to accompany her on a walk through the past. Furthermore, we heard an extract from 'Fragrance of my Mother's Garden', which brought up beautiful illustrations in our heads as well as the illusion of floral scents in our rooms. The last lines of this passage, "every new blossom is still a reason to celebrate", created a lovely ending. Another piece of art by Zarina, namely the sculpture 'Golden Morning' (2001), was introduced as an inspiration for Azita Givi's poem 'My Heart's Window', which we heard in English and Urdu.
In accordance with the theme of this event, two of Syma's past projects with similar topics called for a remembrance. Together with older women from a mostly south Asian background, they built a model house of their homes before they migrated to Scotland between the 1950s and 1970s. This 'Model House' project gave them a chance to talk about their homes with a particular focus on home life and was an opportunity for the participants to put their skills to use as well as learn new skills in the area of crafting. Lego was used to build an initial model for visualisation, before they used all kinds of materials to build this house with an authentic representation. Today, visitors who come to GWL can see the actual model house from that project, when taking a tour through the Library.
Another project was the 'She Settles in the Shields' publication, which was launched ten years ago. Thirty women were interviewed to talk about their life before coming to Scotland as well as speaking about their arrival and integration. It also thematises the reasons for their departure and the contributions they made to life in Glasgow. Everything was written down and illustrated by photographs to bring forth one publication, which can be found at the Library for lending or purchase. In celebration of its 10th anniversary, there will be an event coming up this October. It will be an opportunity to recall some of the stories and catch up on what has happened in the last ten years. Watch out for the event on our website to be part of this commemoration.
Wonderful pieces of poetry by Imtiaz Dharker, filled in the last part of this Story Café Special. She is a poet and an artist, who was born in Lahore, Pakistan, and grew up in Glasgow. Work has also brought her back to India in the past and today she lives partially in Mumbai and London. Themes in her work are mostly influenced by her life and the experiences she has made. Childhood, exile, journey and home, as well as displacement and belonging make up some of these topics. The poems 'Glasgow Shore Leave', 'Close', and 'Don't', were part of the selection for this event. Additionally, her poem 'Recipe, never written down' made everyone curious for the secret ingredient and maybe one or the other longing for this delicious dish. Beautiful sentiments, as well as powerful imagery were captured in these wonderful writings.
This Story Café Special took some of the participants back in time and brought up memories of their own family and history. It also highlighted the appreciation for other people's journeys and what they have experienced in life. Additionally, it was the successful outcome of a wonderful collaboration for everyone to enjoy. See you at GWL's next Story Café!