Established in 2012, the National Museum of Roller Derby (NMRD) is the UK's first permanent collection of ephemera and memorabilia relating to the sport of Women's Flat Track Roller Derby. In 2016, to celebrate our new permanent home in Glasgow Women's Library's new Bridgeton HQ, we bring you an 'Object of the Month' from our ever expanding collections.
We want your old team shirts, flyers, zines and other paraphernalia to illustrate the remarkable development of the sport in the UK. Keep an eye on the Facebook page for future announcements on how to donate items to the Museum.
*Due to the Covid-19 pandemic and lockdown restrictions access to the collection, and consequently digitisation of the collection, is limited. Therefore, Object of the Month will become Programme of the Month as these objects are already digitised online*
April 2021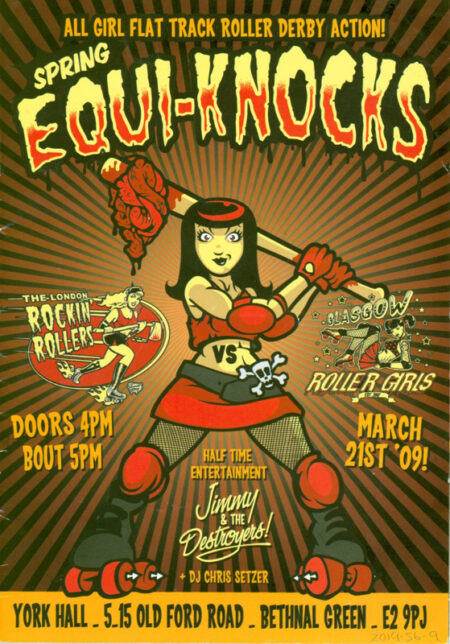 Roller derby dismantles what it means to be 'feminine'. It mixes adrenaline with ferocity and the provocative. It used to be that players would wear outfits similar to the one depicted in the artwork above. Shorts and skirts were paired with fishnet tights and tank tops. This is often illustrated in the graphics and artwork of roller derby bout programmes, posters, leaflets, and ephemeral materials such as postcards and stickers etc. However, in recent times, teams have began dropping the 'boutfits' for the more athletic sporting uniforms in a bid to become more professional.
Nevertheless, the artwork has retained its punk-rock origins as does a lot of the team, player, and bout names; many of the names allude to cultural and popular references. This helps to showcase the fun, quirky, and humorous nature of the sport of roller derby.