Readers of Colour is a thriving community of women and non-binary folks of colour who meet once a month to discuss literature, film, podcasts and more by women and non-binary creatives of colour. Visit our page to find out more about us and get involved.
In this blog, members of Readers of Colour are sharing books they've loved and would recommend. Enjoy!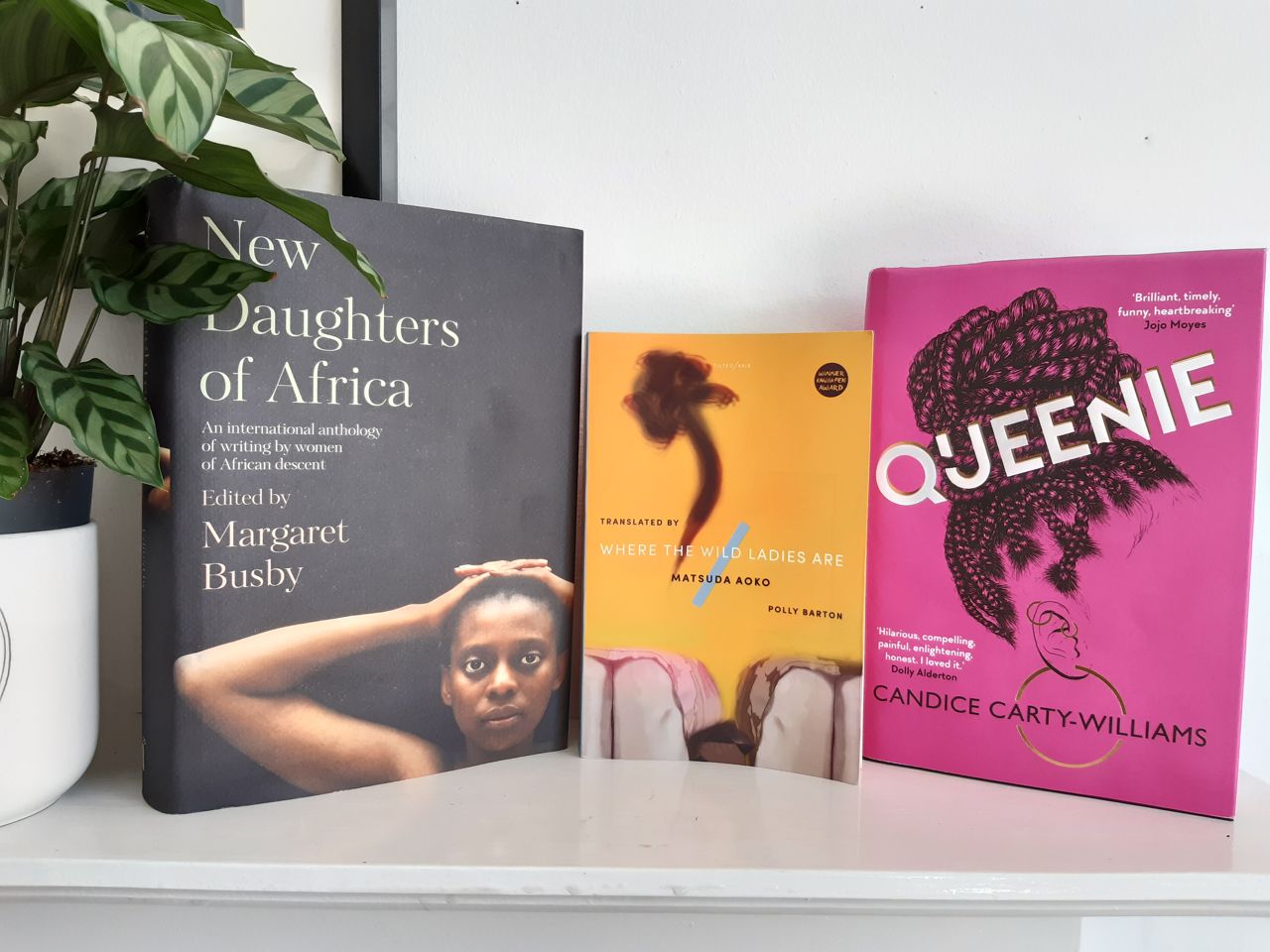 'Home' by Ketty Nivyabandi, in New Daughters of Africa, edited by Margaret Busby
I found Home by Ketty Nivyabandi in the wonderful New Daughters of Africa anthology. Ketty is a poet, human rights defender and social justice activist from Burundi. The picture she paints of the home she left and of the home she lives in resonated with the experience that I and so many others from the African diaspora have talked about. The singular beauty, the sights, smells and feeling of being Home. The alienation of being in a new country and the assumption of your value and experience. I found this colourful sensory beautiful piece an ode to home and hope.
By Dee Payne
Celestial Bodies by Jokha Alharthi, translated by Marilyn Booth
Celestial Bodies is a beautifully written often poetic novel. It follows one Omani family over three generations against the backdrop of modernising Oman. It touches on themes such as patriarchy, slavery and tradition. There are strong images throughout Celestial Bodies that have stuck with me. Moments such as a woman giving birth standing up, a child dangling upside-down in a well, and the arrival of the first car in al-Awafi. It is a novel that is bursting with life. There is a complex narrative structure and each chapter focuses on a different character such as 'Qamar, the Moon' and 'Masouda, still here'. With such a rich host of characters and a looping, intertwined narrative it is easy to see the influence of writers like Garcia Marquez. I found that it was a joy to read such complex and lively writing focusing on Omani women. It offers a unique insight into Oman's culture and Alharthi evokes a vivid sense of place throughout. Celestial Bodies is a story of love, loss, survival and deep societal and cultural change.
By Roshni G.
Girl, Woman, Other by Bernardine Evaristo
By Nanjika, with subtitles compiled by volunteer and RoC member Ru.
My Past Is a Foreign Country by Zeba Talkhani
I first came across Zeba's writing from her essay in the Nasty Women anthology (another highly recommended book) and when I learned that Lighthouse Bookshop were hosting an author event during their free Book Fringe I immediately booked my spot. The excerpt she read was of when she was 4 years old and her mother threatened to burn her with a metal spoon if she did not eat her dinner. As she told this story I became that 4 year old. My feelings must have shown on my face as whilst I queued up to get my book signed one of the organisers came up to me and asked if I was okay as she had seen my face during the reading. As I read Zeba's story I cried with her while she underwent painful treatment for hair loss, felt the sorrow of hearing about her friends' marriage and crushing disappointments, felt anger at the patriarchal society we all live in. She writes with such a raw honesty it is quite breath-taking and I am so grateful that she chose to share her story.
By Lesa Ng
Queenie by Candice Carty-Williams
This feminist novel tells the story of Queenie, a young black woman who's dealing with a massive break-up that turns their world upside down, and ends up uncovering parts of herself that she didn't want to see. It's a really fun and easy read, but it's also so revealing and important. Queenie's story felt so real to me – I was REALLY rooting for her with all my heart (despite her apparently erratic and infuriating decisions sometimes!). The book shows the importance of vulnerability and friendship in a world where racism, discrimination, and patriarchy are around every corner; and it points out that taking care of our mental health is a beautiful act of resistance. I truly think everyone should read this!
By Anita Tobar Henríquez
The Truth About Hijra – A Revathi
I felt compelled to join this project because of a book I'm just reading – The Truth About Me – A hijra life story by A Revathi, who is Tamil like me. Hijras are the recognised third sex in India – a huge community and they face incredible prejudice, violence and transphobia. It's the first book written by an Indian Hijra and probably the only autobiography. It's an incredibly powerful book. Written in easy to read and straightforward language, which makes you feel like she is sitting beside you and telling you her story. And because of her unflinching bravery in recounting the most intimate and traumatic events in her life.
By Kirtana Chandrasekaran
Where the Wild Ladies Are by Matsuda Aoko, translated by Polly Barton
I loved this book from Titled Axis, an independent press 'on a mission to shake up international literature… [with] books that might not otherwise make it into English, for the very reasons that make them exciting to us… the sense that here is something new.' Billed as 'feminist retellings of traditional Japanese ghost stories,' it was exactly what I like in a read: women's voices of today intertwining and responding with women's voices held in history and folklore, and giving them space to speak on the page.
By Nadine Aisha Jassat