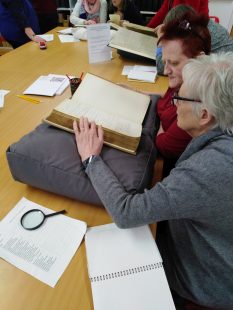 Since January 2020, two groups of women have been discovering the fascinating histories of forgotten Renfrewshire women as part of the Making Her Mark project. Here, group tutor Lil Brookes tells us about some of the discoveries they have made…
"Making Her Mark" is about making women's heritage significant to the story of Paisley and Renfrewshire and exploring how that history is currently reflected and visible.  Creating a sense of empowerment through new womens' voices telling Paisley and Renfrewshire's story is a challenge that has been taken up by two groups, one from KAIROS based in Johnstone and the other from RAMH in Paisley.
Via focus meetings with each group it became clear there were two main areas of interest to inform and give context to a short series of heritage workshops:
Explore aspects of ordinary women's lives in the past, particularly women at work in the textile industry and domestic services
How women have contributed to the arts in the area with particular interest in female poets and visual artists
It has to be said that it is a difficult to "find" women clearly making their mark in the historical record, particularly working class women.  One way is to identify a "real" woman via extant official records such as applications for poor relief and this was the approach taken by both project groups. By identifying and taking "ownership" of a particular individual woman they have been able to further explore aspects of those womens' lives and retell their stories.  The groups searched the 1881 census returns for the Paisley Burgh Poorhouse and the Abbey Poorhouse to identify poorhouse inmates.  Each group participant chose some names which they wanted to find out more about. At this point all that could be identified was basic details like name, age, 'status' (i.e. married, widow, single).  However even at this early stage the stories of these poorhouse inmates were starting to emerge as a vivid portrayal of Victorian Paisley and Renfrewshire.
When a person was destitute and was asking for help in Victorian times they could apply to the local Parochial Board and depending on the decision made by the Inspector of Poor they could receive either "outdoor relief" (a weekly payment to help with rent/ food) or where they were totally unable to support themselves they were admitted into the local poorhouse.  A record was made of every application for poor relief and each was given a serial number.  The records for Paisley and Renfrewshire are held today at the Heritage Centre in Paisley.  There are thousands of records, so searching them to find the identified women was done using the index of application serial numbers. The index is a database and the project participants searched for the inmates they had identified in the 1881 census.  This can be a frustrating exercise as not all inmates are easy to identify because of multiple identical names and some names missing from the index.  However the RAMH and Kairos women were successful in finding at least some of them and noted the serial number of the application form relating to the particular individual.
The groups went to the Heritage Centre in Paisley and spent some time finding the application records and transcribing the details for each inmate.  From this, the fuller picture of the lives and circumstances of individual inmates became apparent.  They found stories of abandoned women with several young children; a homeless woman; three young sisters abandoned at the poorhouse; an inmate too sick to work and support herself in old age, women with mental health issues and a young inmate involved in prostitution.  Many of these women had worked in occupations associated with the textile industry such as being a bleacher, napper or fringe maker.  Some worked as dressmakers or were in domestic service.  By researching the poor relief applications it was possible for each of the project participants to feel as though they knew a little more of the life of their selected inmate.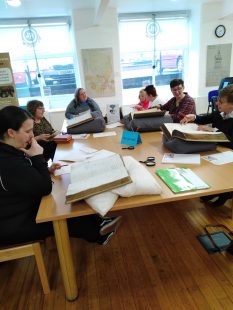 At the end of the workshops new stories of "real" women from 19th century Paisley and Renfrewshire had been rediscovered.  These inmates, whose stories were hidden for over a hundred years, were once again being spoken of and the aim in  further workshops is to learn more about their individual lives and more generally find out more about what they worked at and why this possibly contributed to their destitution.
The feedback from project participants has highlighted an awareness of how difficult life was for women in Victorian times plus an admiration for those strong women who were faced with hard times – infant mortality, abandonment, mental health issues and physical ill health.
The other interest identified at the start of the project was to explore how women have contributed to the arts in Paisley and Renfrewshire.  Initial research focussed on the contributions of artists such as Jessie Newberry and Alice Meredith Williams but following some research at the Heritage Centre it was decided to widen the area of research and view the contributions made by women visual artists via the archive records of the Paisley Art Institute.  The initial research has shown that there were a substantial number creating works and exhibiting works in the 19th century.  The next stages of research will focus on examining the minute books and other archive materials relating to the Paisley Art Institute which may show how these women artists were viewed and how they were admitted to a full range of art classes.  This is interesting research and will definitely contribute to telling Paisley and Renfrewshire's cultural story with a woman's voice.  Research is being undertaken into the contribution made by women poets in the 19th century with a volume of original works by a local woman poet being found in the collection at the Heritage Centre in Paisley.
From the heritage workshops undertaken during the first stage of the "Making Her Mark" project many new and interesting stories are unfolding and previously unheard women's voices are coming to the fore, retold by the women who are participating in this project.  This is what some of them have said so far about their experience and about the women they have been researching:
"She lived a very hard life, and was basically a single parent for most of her life. Life was not easy for her. Due to the circumstances of the times, life was extremely hard in the Victorian times for the working class" (one participant about Catherine Taylor Giffen, poorhouse inmate)
"I have enjoyed finding out so much about life for the working class people and doing research at the Heritage library is so fascinating. I really enjoy learning about my fellow Paisley women and how they lived and my intention is to carry on the research at the Heritage library and feel that this group has opened up my mind and given me pleasure and helps lots with my mental health."
Future research will no doubt prove to be informative, interesting and illuminating and will most definitely be heritage told with a woman's voice…!