One of the very well-utilised reference books at GWL is the Biographical Dictionary of Scottish Women. First published in 2006, the second edition published in 2018 features nearly 200 new entries and we are delighted that next week we host an event to mark The New Biographical Dictionary of Scottish Women.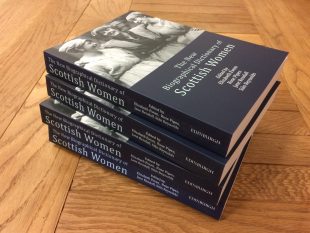 Join us on Thursday 4th July from 6pm to 7.30pm when the editors will discuss the making of the second edition, and through a fully-illustrated talk we'll hear detailed portraits of several of those featured in the book.
Copies of the book will be available for sale on the day at a special price of £25.
At the event we'll have an introduction to some of the women with new entries in the New Biographical Dictionary of Scottish Women. Hear about many women who were 'firsts' in their fields, such as the first woman powerboat racer, the first policewoman, the first woman bell-ringer and the first woman to head HMRC. We also trace the life of the 17th century minister's wife who saved the Scottish crown jewels from Cromwell's troops, and that of Helen Macfarlane who first translated the Communist Manifesto into English.
Some new entries are made possible by recent research, and especially by new work on Scotland and the British Empire, so you will hear about Harriet Balfour (c.1818‒1858), Petronella Hendrick (1829‒1917), Classina Mary Macdonald (1855‒1906), former enslaved people who came to live in Scotland. There's also a new collective entry on the Scottish women who were recruited to work at the code-breaking centre at Bletchley Park in the Second World War.
Some more well-known figures feature in the New Biographical Dictionary of Scottish Women like writer Muriel Spark who was widely celebrated last year in what would have been her 100th Birthday year, and internationally renowned British ballet dancer and actress Moira Shearer. We also learn about, perhaps less familiar but equally remarkable women, such as the Scottish-Ghanaian artist Maud Sulter and the founder of the Scottish Poetry Library Tessa Ransford.
If you are able to join us for this event you can book here: https://womenslibrary.org.uk/event/the-new-biographical-dictionary-of-scottish-women/