We hear from Susan Robinson, who recently took part in our 'Secret Garden' workshops in Edinburgh, in partnership with Edinburgh Art Festival. Run by poet and National Life Long Learning worker Nadine Aisha Jassat, the workshops explore creative writing in response to the nature and beauty which surrounds us in Edinburgh's own secret garden.
Read on to discover Susan's response to The Secret Garden…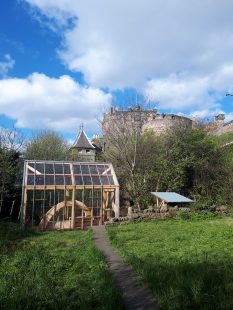 The Secret Garden
The secret garden is hidden behind a locked gate. To gain entry you need to use a large silver key.
The secret garden is a space where things grow – trees, plants, ideas, stories, poems, people.
The secret garden is a place where we plant poems, written on sticks, half obscured by ivy, leaning against tree branches. And even when the sticks are picked up, the imprint of the poems, the words, their meaning is left behind, to be absorbed into the earth, to nourish the things that grow there.
The secret garden is a place to pause. To breathe. To observe. To be.
The secret garden is not so secret. It appears on Google Maps, is visible from the castle esplanade, is passed each day by curious tourists and noisy stag dos.
But despite its visibility the secret garden is still secret. The secret garden casts its spell over its inhabitants, It tells birds and rats you are safe here. It passes on the same message to its human visitors as they pass through and pause.
In the secret garden you are safe to surrender, to grow, to bloom; find your roots; reach for the sun.
And when you leave the secret garden, you can take a piece of it with you, within your heart, within your soul. Take the peaceful space for reflection and lock it within you.
Remember the smile of sunshine, the flutter of leaves, the birdsong, the gentle breeze, and carry that with you as the gate swings shut behind you; as you re-enter the hustle and bustle of the Royal Mile, the hubbub of tourists, the queues of buses.
Remember the secret garden. Remember the plants that need sunshine and rain, that need to be nurtured to grow strong and tall.
And honour the secret garden by nurturing yourself, allowing yourself to grow, to blossom.
Until you return. And unlock the gate again. Find yourself within the secret garden, and the secret garden within you.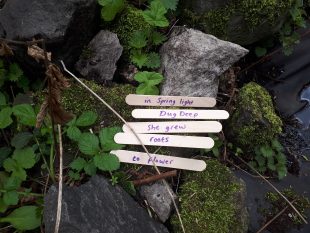 Enjoyed Susan's piece? Sign up to our mailing list to be notified of our future programmes and activities!
About the Author
Susan Robinson works as a social researcher.  She enjoys creative writing and has co-written and co-starred in plays performed as part of Leith Festival; contributed articles and poems to Fearlessly magazine (an online feminist mental health magazine, previously called Fearless Femme); had stories shortlisted in competitions run by the Health and Social Care Academy and SMHAF, and has run writing groups for women with mental health issues, and local community groups.