March marks the beginning of Women's History Month. And all of us at the Glasgow Women's Library are super excited to show you the events we've been working on especially for this month.
So, in order to get you ready for this month full of celebration and learning, I have complied some songs which I feel are significant to the feminist movement! Some songs you will have most definitely heard of and some you may have not heard of until now…
                                                                                                             1. Juice by Lizzo 
If Chaka Khan and Tina Turner had a child, you would get Lizzo. Lizzo is a body positive belle who writes music to celebrate black womanhood and the female sexuality all to a funky beat. This new song manages to teleport you back into the 1980s when groovy dance singles were topping the charts. This song is about feeling good about yourself and tunes into her body positive outlook.
                                                                                              2. Four Women by Nina Simone 
Nina Simone was not only an incredible artist but she also paved the way for many women as an activist. Simone stood up for her beliefs and even sacrificed her career for her activism. She recorded the song 'Four Women' in 1966. It was released on the album 'Wild is the Wind'. Nina Simone sings about the physical and mental design of four different women who are called Aunt Sarah, Saffronia, Sweet Thing and Peaches, whom are all black stereotypes in society. The song is a direct and blatant one which creates a timeline of black women through slavery to the present. Although, each woman speaks for herself, she describes her physical traits and the way she is seen and treated in society, and what "they" call her. Simone touched on the song in an interview, " 'Four Women' came to me after conversations I had with black women. It seemed we were all suffering from self-hatred. We hated our complexions, our hair, our bodies. I realized we had been brainwashed into feeling this way about ourselves by some black men and many white people. I tried to speak to this in the song. And do you know, some black radio stations wouldn't play it? It is true what they say: the truth hurts."
                                                                3. Don't Touch My Hair by Solange 
Solange Knowles is an American-singer/songwriter who is proud black feminist and womanist. Oh! And just happens to be the sister of Beyonce. 'Don't Touch My Hair' has been described as an "anthem reclaiming black autonomy". This song sees Solange setting limits to the degree in which she'll compromise her beliefs and identity to satisfy others. The action of asking to touch a Black woman's hair is a racial microaggression hiding as a compliment. We live in a patriarchal, white-dominated society, which denies black women respect, consent and agency over their own bodies. This song can be read as a blunt rejection for this kind of behavior and that black communities are tired and won't accept this level conformity any longer.
                                                                                                        4. Miss World by Hole 
Courtney Love is a significant force of nature in the punk and grunge scene of the 1990s. Love or hate her, you can't deny her importance in the music industry for women. Courtney Love has always been unapologetically loud and messy, and challenged the status quo surrounding women and how they should behave or look etc. 'Miss World' is a song  which highlights the level of expectation the world has on women in society. The line, "I am the one you want" illustrates Love's view of how everyone aims to be the likes of a  "Miss World", which is an unattainable standard of beauty, and in return men lust over this ideal so the woman can be looked at as a trophy or prize. Love also touches on the idea of a facade being carried out by the 'Miss World' as she lies about being happy and acts positive on the outside, but really on the inside she is unable to cope with the pressure and has suicidal thoughts. Furthermore, this song touches on the mental health issues women face from the constant pressures of society and the media.
                                                                                             5. I'm Every Woman by Chaka Khan
Everybody knows this song. I don't need to explain it. This is a disco anthem which is about the power and connection between all women. It is an uplifting song to celebrate with all your female friends.
                                                               6. Do Right, Woman, Do Right, Man by Aretha Franklin 
Aretha Franklin is a music and cultural icon who was known as the 'Queen of Soul'. Franklin right up to the end of her life was immersed and involved in the fight for civil rights and women's rights. 'Do Right, Woman'  has a feminist message, urging all men to respect women as their equals and not follow the then-common belief that it is "a man's world" by using or abusing them. Aretha Franklin also has mentioned that the song urges men to be loyal, responsible, and "sexually expressive".
                                                                                        7. Oh Bondage! Up Yours! by X-Ray Spex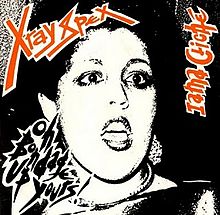 X-Ray Spex were an English punk band from London that formed in 1976. 'Oh Bondage! Up Yours!' is a feminist song about being sick and tired of gender stereotypes and roles. It also touches on the judgement and scrutiny people face because of who they want to be or are. The song also hints the struggle between wanted to be accepted and respected but in society as a women that means to 'be seen and not heard'. Despite, the title of the song, it has very little to do with sex. In fact, it is more symbolism for being chained or a slave in today's society as men often think women are owned by them. Lead singer, Poly Styrene, screams on this song in the most gratingly and feminine way she can, throwing back those standards in a bid for freedom and turning that girly voice into something else more uncomfortable and intruding, and thus liberating.
                                                                                      8. Slave To The Rhythm by Grace Jones 
Grace Jones is one of the most unforgettable artists to emerge from New York City's lavish Studio 54 disco scene of the late '70s. 'Slave To The Rhythm' is one of my personal favourite songs ever. In the song, Jones makes reference to African American History and slavery. Key references are found in the lyrics of the song, for example, "Axe the Wood in ancient times, man machine, power line, fires burn, hearts beat strong, sing out loud the chain gang song."African Americans were brought and sold as merchandise, in chains (chained together in a line) on slave ships. They were forced to work under harsh conditions against their will and worked to a rhythm by singing. At the end of this song, Grace is saying " don't cry, its only the rhythm, we live to the rhythm, we work to the rhythm" before announcing herself as being a 'Slave to the Rhythm'.
It is thought Jones in this line, was perhaps referring to the music industry and the exploitation of Black musicians. By referring to herself as being a 'slave to the rhythm', even though the chains are gone and part of "ancient" times. Grace Jones is still finding it difficult to express her music in the ways that she wants to, because in order to make a profit from her music the industry must first approve, and then take most of the profits for themselves. This highlights the true difficulty female artists have within the music industry, especially women of colour.
9. The Wire By HAIM
HAIM are three-piece female fronted band, who happen to be sisters! This song is important to women of today as this song discusses the feeling or process of no longer being interested in someone who you are in a relationship with. And how she is ready to leave and move on, to find someone who is more compatible to her. It is empowering to women as it eliminates the ideal that many women must stay in a relationship even if they are unhappy. There is unequal opinion regarding men and women in relationships, as most men face no consequences for "breaking" hearts or "playing the field". But if a women does it they are looked down upon and face abusive comments.
This song attempts to tackles a stigma within romantic relationships that we as a society barely talk about.
                                                                                 10. Gold Dust Woman by Fleetwood Mac 
This song is by Stevie Nicks who is singing about a bad breakup and dealing with the pain. It takes a look at female groupies and the drug scene surrounding it. Nicks came forward with her thoughts about the meaning of the lyrics: "Gold Dust Woman was really my kind of symbolic look at somebody going through a bad relationship, and doing alot of drugs, and trying to just make it – trying to live – you know trying to get through it to the next thing." It gives an inside look into what the rock n roll lifestyle for really like in the 1970s. I think overall this is about a woman with a strong, tough exterior who may be self-destructive and often feels lost. She has been hurt before, and perhaps feels lost. Also, she does not let on that she feels this way beneath all the the sex, drugs, and rock and roll. This is an important song as this lifestyle is often glamourised. And it relates to women and their historical struggles in a male dominated world.
Well that's all I have for now. But fear not, GWL have more music inspo for you during Women's History Month. Check out the Revolting Women Playlists which is a compilation of  various music shared by authors, and women who are active in last year's Edinburgh International Book Festival. Revolting Women Playlists