Glasgow Women's Library are delighted to host 'Women Making Change' with Take One Action Film Festival on Saturday 23rd September. Ahead of the event we hear from Executive Director Tamara Van Strijthem who reflects on the importance of female voices being at the very heart of the festival, both behind and in front of the camera. The Take One Action Film Festival returns to Glasgow and Edinburgh this week for their 11th festival, bringing 12 days of exceptional international cinema and inspiring conversations to venues across each city. Find out more here.
At a time when concepts of truth and democracy are being stretched beyond recognition, the tide of political upheavals, environmental threats and isolationism can feel overwhelming. Our 2018 festival programme offers an antidote to despair and powerlessness, with more than 40 films on offer that celebrate our common humanity and our ability – individual and collective – to bring about a kinder, fairer, more sustainable world.
A key focus of the festival programme this year is on women's empowerment. We strongly believe that to create a shift towards a fairer, kinder and more sustainable world – one in which peace, environmental and social justice prevail – we must place women's voices at the very centre. This informs our programming both in terms of the stories we are exploring and the filmmakers we champion: we are delighted that 60% of the films on offer this year have been directed or co-directed by women, with 7 of the feature films receiving the Triple F-Rated stamp of approval!
These films reflect a wide range of experiences, hopes and struggles, through rousing, complex portraits of female trailblazers unapologetically pushing for radical change. Such stories, especially when they are experienced communally, do more than open eyes and minds: they are a direct invitation to reshape our world for the better – right here, right now.
We are thrilled to be closing our festival in Glasgow with Women Making Change, an empowering and celebratory event, held in partnership with the Glasgow Women's Library, which will explore the place of women in change-making and many of the current challenges women still face in civil society, politics, media and international development.
So join Take One Action at our 11th festival and as we celebrate the films and the women that are changing the world!
Discover the Sisters strand here.
Discover the full line up here.
Time for Ilhan
Ilhan Omar, a hijab-wearing mother of three, was a complete outsider to the US political scene. Frustrated by the increasing disconnect between her Minnesota community and the public officials who represent them, she challenged a 43-year incumbent for a seat as Minnesota state representative. Capturing her life on the electoral trail with remarkable intimacy and access, this rousing documentary casts a hopeful look at the role young women are playing in re-shaping the political landscape. We will be joined in conversation by Engender and Women 50:50.
Time for Ilhan is shown in Edinburgh's Filmhouse on Thursday 13th September, 20:30  and will be screened in Glasgow's The Lighthouse on Friday 14th September, 19:00.
Silvana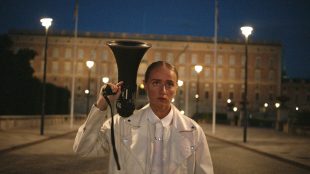 Feminism, antiracism and LGBT rights combine in Swedish hip hop star Silvana's uncompromising lyrics. Her radically intersectional voice scratches at the polished surface of Sweden's  progressive tolerance to reveal the many prejudices bubbling beneath. Challenging bodyshaming, racial and gender stereotypes, Silvana ruffles a lot of feathers – and empowers thousands of young girls to seek a different understanding of their own strength.
Both screenings will be followed by a special performance by artists including rapper Erin Friel, musician Heir of the Cursed and spoken word artists Nadine Aisha Jassat, Janette Ayashi, Tawona Sithole, Katie Ailes and Leyla Josephine.
Silvana is shown in Edinburgh's Filmhouse on Friday 14th September, 20:30 and will be screened in Glasgow's CCA on Tuesday 18th September, 19:00.
A Better Man
During the two years they lived together as teenagers, Steve abused Attiya on a daily basis. She survived the racist insults – but his blows nearly killed her. 20 years later, Attiya has asked Steve to meet: she wants to know if he will take responsibility for his violent actions. Capturing their encounters, this intimate and empowering documentary explores how abuse continues to linger through both the survivor and the perpetrator's lives, as Attiya seeks a different path towards healing and justice. The screening will be followed by a conversation with Sarah Crawford of Just Right Scotland, Laura Tomson of Zero Tolerance and representatives of the White Ribbon Campaign.
A Better Man is shown in Edinburgh's Filmhouse on Monday 17th September, 20:30.
Strike Like A Rock
After the massacre of 34 striking mineworkers shakes their poverty-stricken community, two grandmothers lead a historic fight for justice. They seek to force the mine owner, British-based Lonmin, to meet its legal obligations to improve living standards for the miners' widows and children.
Beyond a damning exposé of the ties between the ANC and the extractive industry, Strike a Rock contrasts political expediency, corruption and corporate hypocrisy with the women of Marikana's struggle for solidarity, healing, respect and justice.
Strike a Rock is shown in Edinburgh's Filmhouse on Friday 21st September, 20:30 and will be screened in Glasgow's Gilmorehill Cinema on Thursday 20th September, 19:00.
Naila and the Uprising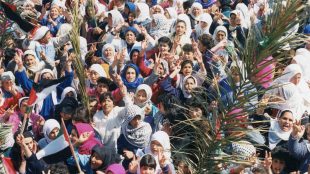 Exploring a story that history overlooked, this hopeful documentary sheds light on the crucial role played by women's community organising during the first Intifada. Drawing on the hallmarks of civil resistance, women's committees in the West Bank, Gaza and Jerusalem were able to mobilise hundreds of thousands through massive street rallies, mobile health clinics, underground schools and concerted boycott campaigns. Through animation, exclusive archive footage and intimate, in-depth interviews, Naila and the Uprising offers a rare opportunity to re-appraise the history of nonviolent resistance in Palestine from a feminist perspective.
The screenings will be followed by a conversation with the film's key protagonist, Naila Ayesh, and other guests.
Naila and the Uprising is shown in Edinburgh's Filmhouse on Sunday 23rd September, 17:45 and will be screened in Glasgow's GFT on Saturday 22nd September, 18:00.