There's no doubt that 2018 is a special year.
Events, remembrances and celebrations all over the country mark 100 years since (some) women secured the vote in the UK – and 2018 is also the centenary of the end of World War One.
As part of our own recognition of this momentous year, the National Lifelong Learning Project has once again had the great pleasure of partnering with the Bonnie Fechters and the Harpies, Fechters and Quines Festival to deliver sessions in Edinburgh.
This is just a taste of what we've been up to in the last few weeks . . .
Hearing from the Women Poets of World War One
We've been busy researching the way that women recorded and shared their experiences of 'The Great War' through their writing.  Fascinated by the range of work that we uncovered, on 14thJune we got the opportunity to showcase some of it at our Women Poets of World War One Story Café Special event at Central Library, Edinburgh.
Women's writing (and particularly poetry) from World War One reveals an enormous amount about stereotypes of women's identity at this time. Were all women supportive of the war? Not necessarily! Many women actively campaigned for peace, and we discovered a clutch of poems which decry the carnage and loss of war. Yet some women did write poetry urging men to take up arms, and even lamenting that they, as women, could not take to the trenches themselves.
"I was so looking forward to this and it didn't disappoint. It has been so informative and interesting. Thank you so much!"
A participant at the Women Poets of World War One event
We also discussed the role that social class played, and that it continues to play, in the experiences and understanding of World War One and of conflict generally. In A Recruit from the Slums, Emily Orr asks why the working classes, who have been so disenfranchised and overlooked by their country, should now be so willing to fight and die for it, and the reward for a son's life is "No gold . . .Jest bronze" in May Herschel-Clarke's For Valour, in which a mother reflects on the bronze medal in her living room marking the loss of her dead son.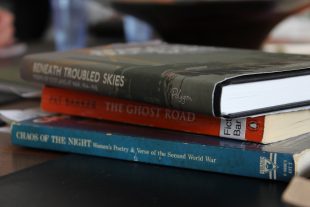 Our intern Jeanette shared some poems written by German women which reflect and resonate with so many of the themes to be found in the writing of their British sisters, reminding us of the common sense of loss, powerlessness and pride in women's experiences of conflict. As Margaret Sackville wrote in her poem Reconciliation:
"With such low, tender words the heart may fashion,
Broken and few, of kindness and compassion,
Knowing that we disturb at every tread
Our mutual dead."
This clearly remains a poignant and emotional topic, and as participants at the discussion shared their own insights and reflections we were struck by how experiences of war 100 years ago are sometimes eerily similar to those of today.
Thank you to everyone who came along for helping us to reflect on these poems and sharing your thoughts with us.
Harpies, Fechters and Quines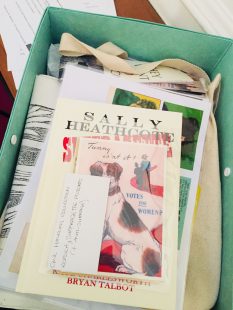 Our intern, Jeanette, has also been busy working with women in Edinburgh. During her post, Jeanette will be involved in the National Lifelong Learning Project and Story Café, among other projects here at GWL. She started in April and will stay until early October. Her internship here is part of her studies of English and Gender Studies at the Saarland University in Germany, where she grew up.
Here's a little about what Jeanette has been up to over the last few weeks:
On the 4thof June, the Harpies, Fechters and Quines festival started in Edinburgh. It is a two week festival organised by a local women's group called Bonnie Fechters and this year it revolved all around the subject of Women, War and the Book. Glasgow Women's Library, as one of several partner organisations, contributed to it by holding two Story Café Specials and featuring objects from our archive at a talk by Dr Jane George on the Scottish suffragettes.
On 7thJune we held a Story Café Special at the Scottish Poetry Library which featured Nalini Paul in conversation with Morag Smith from GWL and Hannah Lavery from SPL. Nalini's new dramatic work in progress  Beyond the Mud Walls, explores the life of political prisoner Freda Bedi and the fight for Indian independence. This was a great chance to hear Nalini read from her poetry and this new work, discuss her writing and consider the themes of identity, nationhood and conflict. A fascinating conversation was had by all!
The day after the 10thJune Processions, I took an archive box full of suffragette memorabilia and books to Edinburgh Central Library and joined Dr George at her talk. In preparation for my trip to the capital of Scotland, Morag and I went to our archive and gathered an assortment of books not available in the main library (showcasing hilarious titles such as Woman Suffrage: A National Danger), replicas of anti-suffrage postcards, illustrations of suffragette jewellery we had digitalised earlier this month and sashes previously produced for the March of Women.
As part of my research for the National Lifelong Learning Project, I had gained some knowledge of the names and lives of Scottish suffragettes, but Dr Jane George, having been a researcher in this area for decades, trumped it all in interweaving and understanding the socio-political circumstances and individual women's lifelines. I showed the audience the contents of our suffragette archive box and am grateful they paid full attention to what I had to say – they even asked me questions, for example on the suffrage movement in Germany compared to the UK (for an accessible article on women's suffrage movement in Germany, click here).
It was a splendid day and I hope to meet Dr George and the Bonnie Fechters team again as soon as possible!