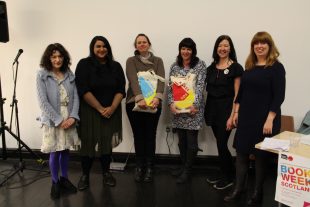 Our 2017 Bold Type:s Scottish Women's Creative Writing Competition marked the fifth year of Scotland's only free creative writing competition for women and we received hundreds of short stories and poems in response to this year's theme of 'Body Positive'.
The winners of our Bold Types: Scottish Women's Creative Writing Competition 2017 were Mairi Sutherland and Stella Hervey Birrell. Mairi was the winner of our short story category with Botticelli Beauty and Stella took the top spot in the poetry category with her poem Release Marks.
We're delighted to share Mairi's winning entry here – do keep an eye out for Stella's poem as she plans to publish it elsewhere.
Botticelli Beauty by Mairi Sutherland
I met her in a café, one October morning. Not the type of place I would normally choose with its hard-backed chairs, red plastic cloths with the lingering smell of egg and boiled milk.  She looked like she sounded on the phone. All thin- skinned and jutting bones. Magazine- perfect. Dug fingernails in my flesh.  Red welts rose.
She leant over, handed me a menu. Her scent scattered like geranium leaves, when you brush past them.  A cloying muskiness which reminded me of the back porch on rainy days. I plumped for a Scottish Breakfast. She chose a skinny latte and a piece of wholemeal toast.
'So' she began. The bracelets on her wish-bone wrist jangled.
I stabbed a sausage, watched the skin pucker open.
'You're happy to be seen, you know…'
I squinted at her. Willed her to say it.
She reddened, paused.
'You're not what I imagined.'
I shifted in my seat. 'Is there a problem?'
'No. We need all types. You know all shapes.'
He told me I was beautiful. His Botticelli beauty. That he loved the spill of my flesh, the way he could bury his head within my folds of skin. He dressed me in geometric pattern and wound me in silk in peacock greens and blues. He urged me to shout to the skies at night. To announce to the bus queues, the checkout girl with her sucked in cheeks and sachets of Slimfast strapped to her wrists.
This is me. This is me. This is me.
 He fed me duck and venison in glazed plum sauces. The stickiness oozed down our chins, stained our fingers. We picnicked on river banks. Our wicker hamper crammed with cuts of ham, slivers of cheese and hunks of Tiger bread. The sun warmth on our backs, our necks. A loosening. Traced his alabaster-smooth skin with my thumb. Like the alabaster eggs my mother kept in a stone pot in the hallway.   
She nibbled her way around the toast. I savoured the chin-spill of egg and listened to the creak of my jaw. I eyed her out my too- long- fringe. The way she laced her hands in front.
We met at a Private View. A mutual friend, Anna, had written us invites. We came alone and gravitated towards each other. I smelt him before I saw him. Wood smoke and wool. Heard his measured breathing, his baritone which stilled the shrieking in my head. He stroked my inner wrist with his thumb as we were introduced. I saw the spark in his eyes.
I mopped my chin, noted: the way her skin stretched taught over cheekbone; her mouth move from side to side; the lipstick smear on her front tooth.
'You will be set in a pose. The room will be heated and there will be regular breaks.'
She was staccato and short of breath. A smoker's wrinkling around her thinned lips. A puckering like the knot in a balloon.
'Bring a robe and some indoor pumps.'
He cooried into me. Skin-touch close. Tucked a strand of hair behind my ear. Stroked and teased and licked and kissed my flesh.  
'Any questions?'
I pushed my plate away.
What to ask? What to ask? What to ask?
Did he feel pain? Did he clutch at his heart? Did he call my name as he slumped to the ground?
'When do I start?'
'Tomorrow. Meet me in reception and I'll take you to the studio.'
I nodded.
She rose, signalled the waitress with the kohl-rimmed eyes and a badge with Barista pinned on, handed her a twenty pound note.
She placed her hand in mine. I squeezed her bony fingers. I could snap them one by one.
They hunt me out in canteen queues, behind the bike shed, the science labs. They prod and poke and kick and bite and scratch. Run a blade down my throat, stamp on my skull.
Fat Fuck. They spray this on my blazer in gold, in capitals. I scrub with liquid soap and a scourer, round and round, until my knuckles bleed.
We part outside the café door, hesitant in our goodbyes.
There's a chill in the air. I turn up my collar, catch a glimpse of myself in the café window.
Head held high, I stride out. If I hurry, I'll make it. I saw it last week. A dress in Azure blue. He said it was my colour. It would easily slip off tomorrow when I crouch behind that screen. My body to be sketched in charcoal, acrylic, oil, pastels.
This is me. This is me. This is me.