On a right dreich and drookit Monday morning in November, some brave members of the Seeing Things group attended a thought-provoking guided tour of the Maryhill Burgh Halls. This was researched and given by our very own GWL volunteer Anabel Marsh. Anabel, once a Librarian, now volunteers at both of these organisations and is interested in unearthing women's histories. So, this tour had a fabulous feminist twist and featured stories about suffragettes, "wayward" girls, Mary Hill herself, as well as women from all backgrounds and different professions. Her excellent investigative skills were clear to all and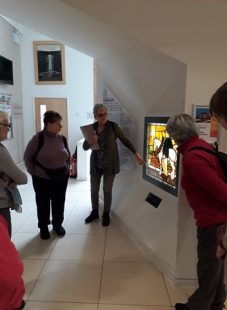 her natural and engaging form of speaking was commented on by everyone. So well done Anabel, and thank you!
A personal highlight for me was the discussion of the Glasgow Magdalene Institution which was situated in Maryhill. The immoral treatment of women who were condemned for being single mothers, socialists or seen as dressing inappropriately seems like a million miles from today's society. It got shut down in the sixties because a group of women ran away and had the Police chasing all over Maryhill for them! Eventually when they were caught, they made allegations of ill-treatment and abuse, and only then did it get shut down! I researched and wrote a short Wikipedia article about this which you can read here for more information.
One of the things that make this so poignant is that it was not that long ago… Indeed as the centenary celebration of SOME women getting the vote approaches next year it puts life and the position of women into perspective.
For those of you who don't know the Maryhill Burgh Halls was opened on 26th April 1878, however, it has been extensively renovated and modernized making it a lovely space to visit now in 2017. It is most famous for its stunning stain-glass windows which were commissioned when the building opened. At the re-opening of the building in 2012, Glasgow Museums allowed 11 of the original panels to be returned to their original location in the Main Hall for display, and ten modern Windows of Today were commissioned (which include Art-Beat, Down Maryhill Road, Knowledge, Going Out, Burning Spirit and Made In Maryhill).
 Only two of the original 20 Stephen Adam stained-glass windows feature women (with one featuring a young girl) but this is not to say that women did not play an important role in Maryhill's history. What is so unique about the stain-glass windows is that it was real people depicted as they really were, in their everyday working clothes, at work. Usually stain-glass windows feature biblical themes or elaborate designs; however, these firmly depict the history of the area.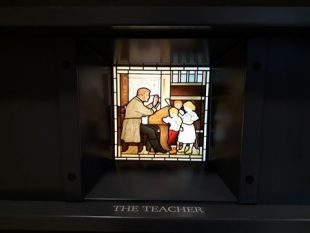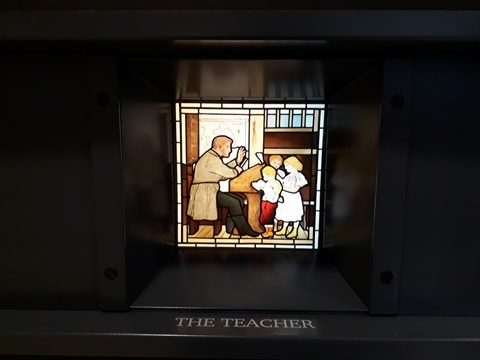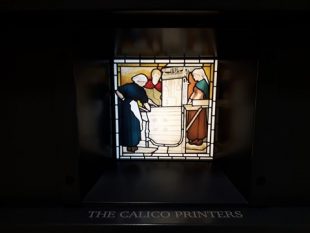 Readers, our trip was front-paper news! Excitingly, information about the tour featured in the Evening Times (Tuesday, 14 November 2017 edition). The Seeing Things group was mentioned, which is an excellent claim to fame, and hopefully this will find its way to more women and inspire them join the group; remember we are open to all women who seek to explore new places, meet new people and have fun. Look our for upcoming trips by following this link.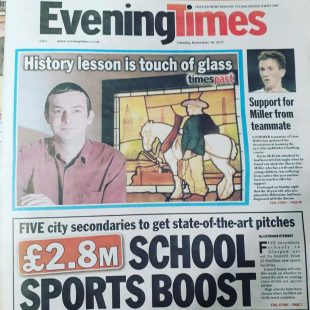 The Halls are not only located in the heart of Maryhill, they are also passionate about preserving and conveying its history, meaning it is deeply connected to the area. Whilst walking to the Halls we passed the Forth and Clyde canal which featured some cold looking ducks and swans… This got me thinking about other cultural landmarks within Maryhill to entice visitors to come for a jolly.
Readers may be interested to find out that The Mackintosh Church – 10 points if you guess which famous architect designed it – resides there! Built in 1896, it has many of Rennie Mackintosh's most loved features, including his ornate nouveau stained-glass, combined with sleek lines, within and without. Additionally, Maryhill's art galleries are its buildings: it boasts multiple murals all along Maryhill Road.
7 out of 8 participants gave the tour a 5 star rating and many expressed an interest in going to further events at the Maryhill Burgh Halls as well as finding out more about Maryhill, and Glasgow's, hidden histories. If that's not a successful trip I don't know what is.
Please feel free to contact the Maryhill Burgh Halls directly for to arrange a Women's Tour and they also provide walking canal tours too (which I will arrange a tour of once the better weather comes in so watch this space). As always if you would like to join the Seeing Things group then contact the GWL to join our mailing list.
References:
http://www.maryhillburghhalls.org.uk/
http://www.wow247.co.uk/2015/08/21/wont-know-about-maryhill/