On Friday 9th June this year, we had a rousing and raucous time at our 2017 All Women Poetry Slam hosted by Carly Brown at the Out of the Blue Café in Edinburgh.
For those of you who missed the Slam, we are delighted to feature podcast recordings of some of the poems we heard on the night.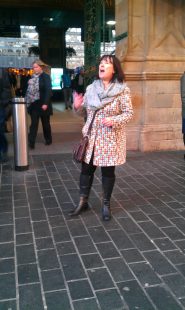 As a spoken word artist, Lesley Traynor won the 2017 Four Ages Slam at the Tron theatre and the 2017 Sma' Shot Slam in Paisley, and has performed at the Edinburgh Fringe, Electric Fields and Belladrum Festivals. Her poetry has been published extensively and most recently by 404Ink and the New York magazine, Anti Heroin Chic. In August 2017, she published the Women with Fierce Words anthology of poetry performed by women at the 2016 Edinburgh Fringe. Her THRAWN project encourages women around the World to support other women have a voice by being filmed reading the poem THRAWN.
She co-founded Fierce Poetry in Motion, which produces and screens Poetry Films, bringing them to a wider audience at events around Scotland.
As a committee member of the Federation of Writers (Scotland) she supports emerging writers. She is also a member of Scottish Writers' Centre and supporter of Scottish Pen and Dove Tales Scotland.
You can find out more about Lesley on Facebook (L A Traynor/Lesley Traynor) and on Twitter @latraynor and follow Fierce Poetry in Motion @motionpoets
In this podcast, you can listen to a recording of Lesley reading her poems from the Slam, Big Bad Wolf, Rabbie's Lass and Keening.
The poems are also available as a PDF download below.
Please note that the featured poems may contain explicit language and sensitive themes
2017 Poetry Slam Poems by Lesley Traynor
Our thanks to our partners Edinburgh City Libraries, the Bonnie Fechters, the Harpies, Fechters and Quines Festival and the Out of the Blue Café in Edinburgh for their part in making this year's slam such a huge success!

Podcast: Play in new window | Download