On Friday 9th June this year, we had a rousing and raucous time at our 2017 All Women Poetry Slam hosted by Carly Brown at the Out of the Blue Café in Edinburgh.
For those of you who missed the Slam, we are delighted to feature podcast recordings of some of the poems we heard on the night.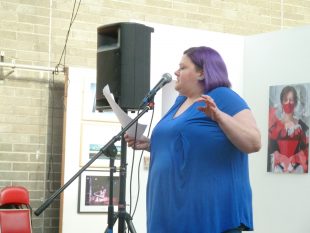 Jo Gilbert, the winner of the 2017 Slam, is a new writer and performance poet from Aberdeen. She is currently a Writing Practice and Study MLitt student at the University of Dundee. Having just finished a collection of contemporary Doric poetry, Hings beginnin wi P, Jo is now working on several short stories, a novel and her dissertation.
In this podcast, you can listen to a recording of Jo reading her winning poems, My afternoon slumps at work are haunted by an evil spectre, Pain, Pish and Patriarchy and Where the shiny things are.
The poems are also available as PDF downloads below.
Please note that the featured poems may contain explicit language and sensitive themes.
Our thanks to our partners Edinburgh City Libraries, the Bonnie Fechters, the Harpies, Fechters and Quines Festival and the Out of the Blue Café in Edinburgh for their part in making this year's slam such a huge success!
My afternoon slumps at work are haunted by an evil spectre
Pain, Pish and Patriarchy
Where the shiny things are


Podcast: Play in new window | Download