First Minister Nicola Sturgeon joined us at Glasgow Women's Library last weekend for The Great Get Together Tea Party and Lunch in honour of murdered MP Jo Cox. In partnership with the Scottish Government, the event was just one of thousands taking place across the country that marked one year since Jo was tragically killed.
Jo lived her life according to the belief that we have more in common than divides us, and in that spirit, her husband Brendan and friends planned The Great Get Together and encouraged people from across the country to mark the anniversary by organising or attending a celebration in their community.
The First Minister addressed attendees at the GWL tea party and urged people not to let the actions of a minority intent on sowing division demonise whole communities. Sturgeon said, "Brendan Cox, Jo's husband, and the Jo Cox Foundation have to their great credit been really focused on trying to celebrate Jo's memory by getting people to focus on what unites us, not what divides us."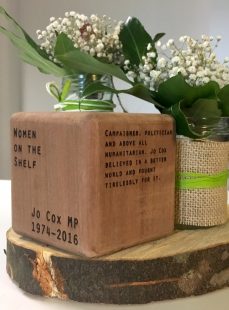 "Jo's maiden speech in the House of Commons had that memorable phrase 'we have more in common than anything that divides us', so that's a pretty good principle for all of us to try and live our lives by."
She continued: "We live in a world where a tiny minority of extremists try to divide us through acts of unspeakable violence and we've got such a responsibility not to allow them to do that."
Guests at the event were also able to see the special Women on the Shelf block dedicated to Jo that was donated anonymously to GWL the day after she was murdered. The block reads "Campaigner, politician and above all humanitarian, Jo Cox believed in a better world and fought tirelessly for it."
Brendan Cox's book, Jo Cox: More in common, is available at the Library.