On Thursday 23rd June 2016, we were proud and very excited to host the All Women Poetry Slam in partnership with the Harpies, Fechters and Quines Festival 2016 at the Out of the Blue Cafe in Edinburgh.
The slam received a fantastic response and was enormously popular; a chance for women of all ages and levels of experience to perform and compete for the title of Harpies, Fechters and Quines 2016 Slam Champion.
In this podcast, we are delighted to share recordings of two atmospheric, deeply evocative poems – Shawbost and Spaces – by 2016 Slam Champion Katharine Mulvenny.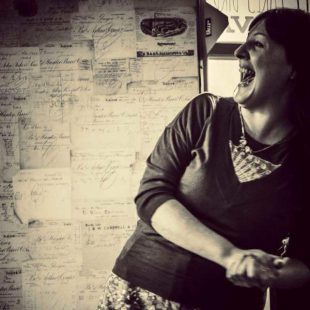 By day Katharine is a librarian, sharing stories and songs with children of all ages. At night she reads poems to grown ups. Her poetry is rooted in the landscape and history of the west of Scotland and draws inspiration from traditional Scottish stories and songs alongside myths and legends from the wider Celtic and Norse world. A regular performer at spoken word events across west and central Scotland her work has been broadcast on BBC Radio nan Gàidheal and The Grind on Castle FM and has appeared in The Grind Journal and the Write Angle and [untitled] magazines. She is currently the Harpies, Fechters and Quines Slam Champion.
For more information about this project please contact National Lifelong Learning Development Worker Morag Smith morag.smith@womenslibrary.org.uk

Podcast: Play in new window | Download