It was International Women's Day 2013 when I walked (nervously, I'll admit) into Glasgow Women's Library for the first time. I had come to listen to Scottish poet Jackie Kay reading some of her excellent work about the lives of asylum seeker women in Glasgow.
That day, I realised that I had something to offer – and something to gain – by volunteering with GWL.
Two years have passed since I joined the GWL staff team, and I am now Project Assistant to the In Her Shoes and National Lifelong Learning projects. I spend my days here supporting women to challenge prejudice, and to take joy and energy from learning about the history and achievements of the women who went before.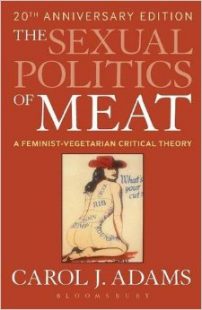 My favourite item in the GWL collection is our copy of Carol J. Adams' The Sexual Politics of Meat – a vegetarian-feminist discussion about misogyny, meat and masculinity, the feminisation of animals and the animalisation of women. It explains with passion, anger and breathtaking clarity how the oppressions of non-human animals and of women are intrinsically linked, and why the rejection of animal abuse is a feminist act.
For me, finding this book was a relief and a revelation – I finally felt I had a language to explain why my feminism and my veganism were so bound together.
Like GWL, The Sexual Politics of Meat recently celebrated its 25th anniversary – and, like GWL, it has changed my life.
Rebecca Jones
Project Assistant – In Her Shoes and National Lifelong Learning Projects