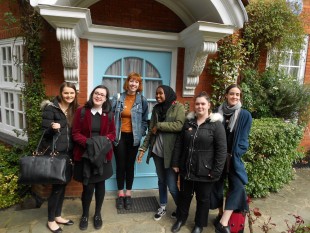 In April, six young women from our Young Critics programme, accompanied by GWL volunteer and sessional worker Lorna MacBean, were invited to attend the launch of the Tall Tales touring exhibition in London. Tall Tales brings together 17 international women's artists who utilise storytelling techniques in their art. The show will also stop in Rochdale before culminating here at GWL in the autumn. This was an exciting opportunity for the Young Critics, and they enjoyed everything they were able to see and learn about. While there they were also given the chance to participate in a creative writing workshop. This workshop was directly inspired by Tall Tales artist Lauren Sagars "A Call for Cloth" project, wherein people are invited to gift a piece of cloth along with a story that relates to that particular item in order to build a community narrative through an eventual fabric sculpture made out of these contributions. The Young Critics were therefore encouraged to write as though they were giving an item and explaining what it meant to them…
Call for Cloth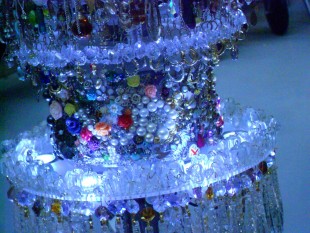 Dashes on one side
Grey bobbly
Damp – small but also texture
Holes
Black tassels
Long wide
Light
Draping
Soft well worn
Comfy
Multi purpose
Black spot
Would go with anything
Been through the wars
Scraggly ends
I enjoy being worn and keeping you warm
I can be added over everything
I'm always there for you; you can just grab me and go
Prevent colds and chills against your neck. I'm a dull colour very neutral but functional
Right now I'm damp but still soft and light. I've been passed around used by everyone easily scrunched up and shoved in a bag when I'm not needed.
-Emily
—————————–
Dear Chloe
I'm sorry for stealing your top.  You knew I would eventually.  I can see why you didn't want me to have it; it's so nice. It fits perfectly which is a challenge with body types like ours.  Maybe you'll appreciate my crime now that its part of art.  My plan is to sneak it back so you never find out then tell you as revenge when you steal something of mine which shouldn't be long. It's so funny how alike we are. Mum and dad are exact opposites tall/small, stressed/calm and we are exactly in the middle with some parts of us swaying to one side. You're at the age where looks are so important to you. This top means a lot as it's a teenage girls dream. It looks so good, a necessity for any party. I remember you complaining because you've already worn it to the major parties and heaven forbid people see you in it again! I'll be 18 soon moving out and I worry I'll miss you so much. What will I do without you telling me I look good, or more than usually rubbish and to go change.  This top is from Forever 21 and I've tried to find one like it for myself so many times.  Now that it's closing I guess I'll need to keep stealing
This top represents everything we have in common but find it hard to admit.  It's a bond sisters have of family and friendship.
Lots of love
Emily
---
These pair of socks are one of many pairs we have shared. Their crazy colouring reminds me of our childhood bedroom walls after we were given the freedom to draw all over them, all 4 walls were covered in slogans, squiggles, and several poor attempts at self-portrait. Like these socks it's not the same when I am paired with another.
Unlike these socks we are not identical even though mum coupled us off like twins.
So when we both came back home for the holidays and split a pack of 2 pairs to then go about our separate lives, I couldn't help but imagine that like your sister it's on your most mundane and blue days, you too decide to slip on the crazy colourful pair.
-Shamso
---
Dear Linda,
Thank you for my beautiful cotton Purple Young Leaders top.  It has reminded me how much I have achieved over the three years of Volunteering with YoMo (Young Movers).  The reason I am so happy for Volunteering with you is that I learn new skills every time also you have helped me with my confidence. Out of all the things I do with YoMo, the work I enjoy most is the Admin work and doing Anti-Bullying. I just hope for the future that I will be volunteering with you until I'm twenty-five, and maybe keep volunteering to do some Admin work with you. By having the Young Leaders top it makes me really happy to have the responsibility to help the young volunteers and support the staff on their work, and being a part of a team that is helpful whenever you need help.
-Rachel
—————————–
Colourful (mostly got blue but got some yellow)
Cotton, but feels elastic at top of socks
Length: just above the ankle
Some of colours looks like it was just thrown on.
I am a bright colourful sock who likes to be worn as I like to be close to people. Peoples' feet keep me warm but don't like getting worn when it rains.  My favourite place to dry is either on the radiator or the dryer. I also like to be seen by people as I am a happy pair of socks.
-Rachel
---
The kilt hangs in the lonely wardrobe of a room with an absent owner. The pink lines of tartan against a white backdrop, pleated together to make a creation of flowing beauty, and though all of her flings have been flung the kilt will go nowhere.
This garment has 13 years of experience woven into it. 13 years of practice, 13 years of pain, 13 years of medals and trophies, 13 years of nerves and hoping. This kilt has competed. This kilt has traveled.  It has followed its owner the length of the country in suitcases and garment bags. It has been ironed, ripped and woven. The last creation of a renowned artist in her field. It is too precious to be sold.
We all secretly hope that it will one day win again. To take the floor and dance one more fling, its beauty shared, its magic passed on.
-Kirsten
---
Gold leotard
I've had it for years.  The day I bought it was unmemorable, £10 a reasonable price for an item I'd certainly wear once, maybe twice. Golden, skin tight, the leotard felt close to nakedness on me. A shining birthday suit, to wear dancing at night.
Did I wear it before I left? I can't remember – but a move halfway across the Atlantic and it had made the suitcase shortlist. It hung in my Reykjavik wardrobe, the city where it would come into its own & me with it. A year without a jacket-less day, its domain lay exclusively within the stuffy & pulsing Reykjavik clubs, where it stretched and danced into the winter's darkness & eternal summer light.
Red, soft, rigid, smells fresh and clean, thin, strappy, crisscross, thin back, light, movable, stretchy, complicated, small, layered.
-Kirstin
—————————–
Close to your heart, warmed by your body, invited to make you look BEAUTIFUL. A second skin, part of you for however long you choose. I'm shared – stolen – time to transform someone else because they love the look of me & the look of themselves with me. I feel so precious, everyone wants me.
-Kirstin
---
glitter threaded through black lines & grey lines
like gridlock tartan
a well-loved waistband
tulip leaves
crossed over with ruffles & folds
I like being worn on days when I can comfortably work. I hug the hips & give my wearer instant style – I don't need any other clothing to work with me. I am the skirt, no other skirt can compare – smart & sassy – wear me if you dare.
---
Dear Rubby,
You don't like dungarees so we ended up in H&M looking at pink dresses and sparkly gloves. I remember when all you would wear was blue & purple & you told me all real princesses lived in trees. I wanted to just take you shopping, but your ginger ninja wee sister wouldn't have it so H&M was for hide & seek too. We ran & hid & my big sister told me to grow up because she didn't know who was the bigger wean out of the three of us.
In the end, you said I had to get something & out of the whole shop you picked me a 14 year old boy's jumper with a tiger in a skip cap & told me that the tagline "whenever, never mind" would do for my grumpy days.
Thanks
-Lorna
To find out more info about Tall Tales, including venues, schedules, and the artists involved, please click here!
 To see what the Young Critics have been working on, come to their exhibition launch on June 2nd at GWL! Information about this event can be found here.