For the last two years the Seeing Things group has been going to see art exhibitions; book launches and readings; artists talks and other performances in Glasgow and further afield. Here some of the group have picked out their highlights of 2015 so far…
Mary-Alice on her trip to Edinburgh Book Festival events with Ghada Karmi and Kate Tempest
The trip to Edinburgh book festival was my favourite trip of the year so far. We got to go to Edinburgh which was really exciting. The authors we saw, Kate Tempest and also Ghada Karmi, were really good speakers and we learnt a lot about their work. Ghada Karmi was my favourite – it was really interesting to find out more about her life and experiences. The people that organised the trip were really friendly and welcoming. It was the first time I had been to Edinburgh Book Festival and I'd really like to go again.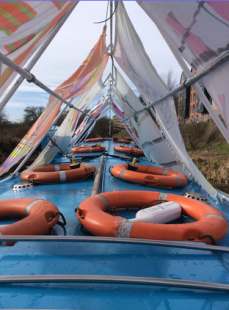 Linda Woodburn on her trips to Glasgow Sculpture Studios Creative Cargo boat
I've been on the Creative Cargo barge twice this year. It's a really nice atmosphere and it's really nice to be on the boat. The people that work on the boat and organise the trips are really friendly and they are really knowledgeable about the canal and its history. It's a really calm and relaxing experience – I've seen water lilies and young deer whilst on these trips. The boat just chugs along and there are no worries. We were taken to see some railings on which artists had carved scenes and stories of the history of the canal industry the last time we went on Creative Cargo. It was great to have these pointed out to us, as you might miss it if you were just passing – they told a really great history.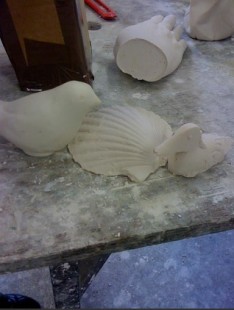 Laine Farquar, Iman Issa at Glasgow Sculpture Studios and plaster casting workshop
The Iman Issa show was really interesting. I took lots of things away from it, but I particularly liked the way she showed how people can interpret things and objects in different ways. What I see is not necessarily what you see. The workshop taught be about the materials that artists use. I made a wee plaster bird and some flower shaped casts which are in my living room. I really like to show them off when people come round!
Louisina Currie on her trip to Anne Hardy at the Common Guild
It was a really nice trip, and it was nice to take part in a trip with different groups from different backgrounds and experiences of art in Glasgow. The artists that led the workshop (Sarah Forrest and Virginia Hutchinson) really wanted to have a conversation with us and were genuinely interested in what we thought about the art. Sometimes I feel when I go into a gallery or arty spaces that I'm like "I don't have a clue", but they wanted to chat and talk to us about how the work made us feel and thing. The show reminded me of a lot of things – one minute you felt like you were in an industrial spaces and the next minute you could be in the same place and feel like you were near a waterfall or something like that. We also did a workshop where we became photographers, and the artists who led the workshop want to use our photographs so it's also nice to think that what we made is going to go on beyond the workshop, and even the exhibition itself.
If you would like to join the Seeing Things group, or find out more about what we get up to, please email info@womenslibrary.org.uk