Women in the arts was the theme for this years Harpies Fechters and Quines festival in Edinburgh which ran from 9-21st June. Within that theme we had a wide range of activities, talks and workshops, from zine making, creative writing, fabulous exhibitions from GWL's 21 Revolutions artists, an exhibition from Edinburgh Women's Aid, and a textile exhibtion from Penelope's Sisters to influential speakers like Lesley McDowell talking about women in Scottish literature plus talks on women poets and artists. It proved to be a popular theme with most events selling out. Participants and speakers came from as far away as Orkney (in the case of poet Morag McInnes and artist Diana Leslie). Some GWL learning groups went to great lengths to attend – our West Dunbartonshire women's history group from Clydebank and Dumbarton hired a community mini bus and made a day of it! GWL volunteer and group tutor Lorna Stevenston writes below about the groups first summer road trip…
Monday the 9th June saw the launch of the Harpies, Fechters and Quines Festival in Edinburgh and the West Dunbartonshire Women's History Group organised a trip through to experience this event. The women were in great spirits and full of enthusiasm as they entered our minibus bound for Edinburgh and this did not seem to flounder despite taking a left instead of a right turn at the Greyfriers Bobby statue and adding an unplanned extra 30 minute tour or Edinburgh until we finally found our destination (thanks to a little point in the right direction from new friends at the Maps division of the National Library of Scotland!).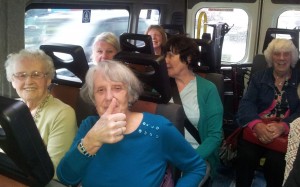 After a delicious lunch at the National Library of Scotland we tip toed across the road through the rain drops to the Central Library of Edinburgh where we were met with such a warm welcome from the ladies of the Bonnie Fechters women's group who, in partnership with the Glasgow Women's Library and Edinburgh City libraries, organised the event with its theme this year being women in the arts. (and a little glass of refreshment to warm the rain soaked tootsies!) We all sat engrossed in the launch speeches and readings from these organisers and from one each of our very own 21 Revolution artists and writers before spreading out to independently experience the exhibition pieces. On returning to the minibus to start our journey home the women were filled with a whole new energy as they discussed their favourite aspect of the day and expressed appreciation for, and of the work and effort put in to achieve this high standard event. Each chatted excitedly about their favourite pieces and expressed admiration for the many talents on show between the works from Penelopes Sisters textile art, the Bonnie Fechters, Women's Aid, and especially our GWL 21 Revolutions exhibits! A fabulous day was had by all so a heartfelt thank you to GWL, Bonnie Fechters and Edinburgh Central Library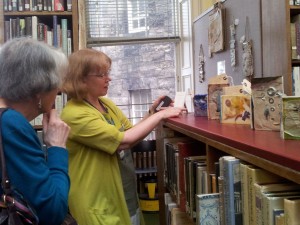 To read more about Lesley McDowell's talk, No Wealth To Leave Us- a Matrilineal View of Scottish Women's Writing
, see Lesley's blog:
http://lesleymcdowellwriter.blogspot.co.uk/2014/06/no-wealth-to-leave-us-towards.html.
If you are based in Edinburgh and would like to get involved in next year's Harpies Fechters and Quines festival, get in touch with the national project on info@womenslibrary.org.uk