In the twelfth of our new Glasgow Women's Library podcasts, Zoe Strachan and Louise Welsh read a joint collaboration, Anyone Who Had A Heart and they talk about the inspiration behind the work.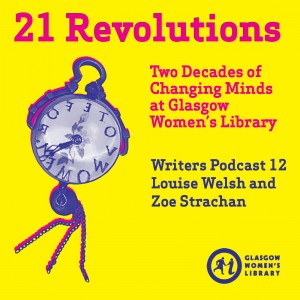 To mark the Library's 21st anniversary, and with the support of funding from Creative Scotland and Museums Galleries Scotland, GWL commissioned 21 women writers and 21 women artists to create new work inspired by items and artefacts in our collections. These new pieces of writing have drawn upon campaign badges, knitting patterns, Suffragette memorabilia, album covers, recipe books, feminist newsletters and other gems found within GWL's thousands of archive boxes or amongst the hundreds of Library shelves. Find out more about the 21 Revolutions here.
Zoe and Louise will be reading their work at the Edinburgh Book Fringe on Thursday 22nd August 2013 in Word Power Books. Click here for the event details.

Podcast: Play in new window | Download