This short, free video podcast showcases the work of renowned author Louise Welsh and emerging writer Kirsty Logan. It is set in three fabulous locations which feature in Louise's published work – Glasgow University, Kelvingrove Park and the Britannia Panopticon.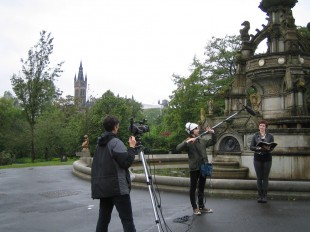 Louise reads extracts from her novels: The Cutting Room, The Bullet Trick and Naming the Bones; whilst Kirsty reads three of her short stories, written specifically for the podcast. These take inspiration from the locations but go back in time to bring elements of GWL's West End and Merchant City walks wonderfully to life. Louise and Kirsty also informally discuss their style, approach and current projects.
Introduced by GWL Director and successful author, Zoe Strachan, this twenty minute podcast provides unique access to two exciting women writers living and working in Glasgow today. Perfect for fans of Louise, those interested in emerging talent and those interested in learning about the roles women have played in making Glasgow the leading city it is today.
You can watch the video below, or download the video from Vimeo to take out to the locations evoked in Louise and Kirsty's writing.
Women's Words from Glasgow Women's Library on Vimeo.