From it's origins as a wholly voluntary organisation, the Library has grown into a thriving 13-woman team, working on our learning programme, with the collection, and keeping the Library running.
The Lifelong Learning Team
Adele Patrick
Lifelong Learning and Creative Development Manager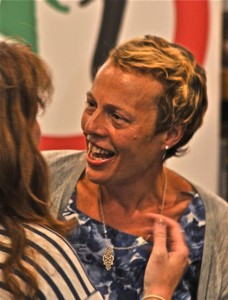 Adele Patrick has been involved in Glasgow Women's Library since its launch, first as a volunteer, then as the Lifelong Learning Development Worker. She now manages Lifelong Learning and is also responsible for the Creative Development of the organisation. Adele manages the Learning team, the Volunteer Coordinator, and the Mixing the Colours Development Worker and works with the Strategic Development Manager and the Board developing new, enterprising and cultural strands of the Library's work.
Adele is particularly interested in the creative and imaginative development of the Library as a unique; arts influenced provision that (re)defines through environment, learning approaches, programmes and resources what a library, archive and museum can be.
Email: adele.patrick@womenslibrary.org.uk
Syma Ahmed
BME Women's Project Development Officer

Syma Ahmed joined the Library in August 2007 as the Development Officer for the Black & Minority Ethnic (BME) women's project. She is responsible for promoting lifelong learning, arts and creative opportunities for BME women. Syma is keen to celebrate the success and achievements of BME women in Glasgow through capturing and compiling their life stories and preserving them at Glasgow Women's Library. Syma has worked in the voluntary sector for over 6 years and enjoys developing new projects to support the local community. Her previous job with a unique charity called Ethnic Enable involved supporting disabled people and their carers from minority ethnic backgrounds.
Email: syma.ahmed@womenslibrary.org.uk
Laura Dolan
Lifelong Learning Assistant

Laura joined the Library in August 2007 as the Lifelong Learning Assistant. She is responsible for assisting with the development of the learning programme and organising events in Glasgow. She also handles promotion of the library activities and keeps the mailing lists up to date and informed: She'll most likely be the one emailing you with information about forthcoming events and handling bookings for these. Laura has worked in the voluntary sector since 1998, mostly with learning organisations, and has a keen interest in promoting learning for all.
Email: laura.dolan@womenslibrary.org.uk
The National Lifelong Learning Team
Morag Smith
National Lifelong Learning Development Worker

Morag Smith studied English Literature in Glasgow then lived in Germany for some years before returning to Scotland where she worked in community learning and development, adult literacies, creative writing and literature development. In July 2009 she joined Glasgow Women's Library as National Lifelong Learning Development Worker and now has a breathtaking knowledge of Scotland's minor road and rail networks through taking the library's learning programme to many places, including Aberdeen, Skye, Dundee, Inverness, Dunoon, West Dunbartonshire and Wigtown. She works with GWL's learning team and a wide range of partner organisations, including libraries, community groups and women's prison services, to deliver bespoke learning programmes, events, and workshops. She also develops new networks and access to the library's unique resources for women of all ages and backgrounds.
Morag is particularly interested in working with new partner organisations and community based women's groups, and supporting and developing new projects which enable women to develop their skills, creativity and confidence and connect with their own life history and the histories of other women past and present.
Email: morag.smith@womenslibrary.org.uk
Rachel Thain-Gray
Development Worker, Mixing the Colours: Women speaking about sectarianism project

Rachel Thain-Gray joined the library in October 2013 as the Development Worker on the Mixing the Colours: Women speaking about sectarianism project.
Rachel has a background in delivering domestic abuse support services, delivering arts projects with diverse community groups as a Participatory Artist and as a creative writer and playwright. She is responsible for engaging staff, volunteers and learners at GWL and across Scotland on the subject of intra-Christian sectarianism – what it is, how it affects women, their lives, and their communities, and how women can challenge it.
During the project we will develop a permanent and accessible resource of film, books, short stories and poetry about women and sectarianism with women as the protagonists. Through facilitated creative sessions women will be encouraged to share their experiences and stories of how sectarianism has affected them and their communities and develop their understanding of sectarianism and their confidence in challenging it.
Email: rachel.thain-gray@womenslibrary.org.uk
Eleftheria Lazaridou
NLLL Administrative Assistant

Ele joined Glasgow Women's Library as Administrative Assistant to the National Lifelong Learning programme in October 2011 after volunteering with the Library. She talks about her experiences with the Library here.
Email: eleftheria.lazaridou@womenslibrary.org.uk
The Adult Literacy & Numeracy Team
Donna Moore
Adult Literacy & Numeracy Development Worker

Donna joined the Library as a volunteer in 2010 and has refused to leave ever since. She was appointed as Outreach and Audience Development Worker in July 2012. Her role is to tell people about the Glasgow Women's Library and all the exciting and inspiring things we do, and develop new audiences and projects for us to get involved in. She spent 25 years in the soul destroying world of pensions and is happy to have found her soul again doing something she loves. She almost has a Masters Degree in Community Learning and Development.
Email: donna.moore@womenslibrary.org.uk
Pauline Healy
Adult Literacy and Numeracy tutor

Pauline joined the Library team in 2007. "I enjoy the diversity of the work involved and the icing on the cake for me is working with all the learners. As well as being based in the library, we also have held learning sessions in the Red Road Women's Centre, The Wayside Day Centre and The Kingsway Health and Wellbeing Centre."
Email: pauline.healy@womenslibrary.org.uk
The Library Collection & Archive Team
Wendy Kirk
Librarian

"I joined the library in 2005, with the exciting and challenging job of being the library's first ever paid librarian! I'd previously worked in community-based support work and community libraries, but when I started at the library I realised I'd finally found what I wanted to do. I feel very privileged to be involved in so many different things at the library, from taking part in World Book Night, to helping people with intriguing enquiries, to dealing with wonderful new donations. A major part of my job is making our books accessible so people can borrow them. There are literally thousands of books to catalogue, so I'm working my way through them as quickly as I can. I believe that reading can be life-changing, so I want to get as many people as possible reading our amazing books."
Email: wendy.kirk@womenslibrary.org.uk
Laura Stevens
Archivist
Laura initially joined the Library as a volunteer in October 2010, and has been one of two archivists at GWL since September 2012. Prior to this role, she worked and volunteered in a variety of archives including Glasgow University Archives, Greater Glasgow and Clyde Health Board Archives and Falkirk City Archives. Laura's passion for archives stems from her undergraduate course in History at the University of Strathclyde and a lifelong interest in the past. In November 2010, Laura completed a postgraduate qualification in archives management, and from September 2011, worked at GWL as maternity leave cover for Hannah Little. She is thrilled to be a part of the Library and eager to open up more of the treasures within the archive.
Email: laura.stevens@womenslibrary.org.uk
Lindsey Short
Archivist
Lindsey joined the Library in September 2012 as one of the job-share Archivists. Her role is to care for GWL's varied and exciting collections of women's records, make them accessible to as many people as possible, and support readers and enquirers in their research. Lindsey has previously worked in Council and University Archives and is happy to have joined the GWL team. Lindsey thinks the best thing about the collections here is their diversity and likes thinking about all the inspiring women who created and used them before they found their way to GWL. She looks forward to exploring the archive with staff and volunteers.
Email: lindsey.short@womenslibrary.org.uk
Magi Gibson
Reader in Residence

Magi Gibson is a poet, writer and bibliotherapist. She first joined GWL as Scottish Book Trust Reader in Residence in 2012. Along with librarian Wendy Kirk she organises and runs the weekly Read, Relax, Recharge! sessions where women from all walks of life come together to have lunch or tea while listening to selected stories and poems being read aloud. With almost thirty years experience of encouraging women to read, Magi also organises and hosts lively, thought-provoking and fun bibliotherapy sessions for GWL in other settings, such as hospitals. In 2014 she will be offering training sessions for professionals interested in the area of bibliotherapy, and more specifically, 'women reading for wellbeing'.
Find out more about what Magi does here.
Email: magi.gibson@womenslibrary.org.uk
Meanwhile, keeping the Library running…
Sue John
Enterprise Development Manager

Sue John is part of the Senior Management Team at Glasgow Women's Library. She takes a lead role in Strategic Planning, driving GWL towards achieving its vision and fulfilling its aims and objectives. This involves providing strong and inspiring leadership, ensuring that GWL works as a coherent team across the different strands of its work as a library, an archive, a museum and an innovative learning resource.
Sue is also the Company Secretary of Glasgow Women's Library Limited, ensuring that all legal requirements as a Limited Company and as a Charity are met and, along with Adele Patrick (her senior colleague in the organisation), advises the Board of Directors so they can provide robust governance and clear strategic direction for the organisation.
Email: sue.john@womenslibrary.org.uk
Gabrielle Macbeth
Volunteer Co-ordinator

Gabrielle Macbeth joined us as Volunteer Coordinator in 2011. Her role is to ensure that volunteers get as much out of volunteering as they put in and that they are involved in stimulating projects which makes the most out of their interests and motivations for volunteering. Volunteers are encouraged to try new things and broaden their horizons and are offered ongoing support as well as training to equip them with the skills and confidence to get involved in GWL's wide ranging and varied projects.
Gabrielle loves having the opportunity to find ways for so many talented and enthusiastic women to contribute to GWL's work, and is always looking for ways to involve women from all walks of life who can bring fresh perspectives and experiences to GWL.
Find out more about volunteering at GWL here.
Email: gabrielle.macbeth@womenslibrary.org.uk
Alison Gardiner
Admin & Finance Worker

"I came to GWL in September 2003 to teach a ten week T'ai Chi class and somehow never left! I worked for a few months as a volunteer and then hourly paid admin worker at GWL until September 2005 when I started to job-share with Helen in the post of Admin and Finance Worker. I currently do mostly Finance work including reconciling the monthly accounts, claiming back Gift Aid, administering the Friends scheme and sitting on the Fundraising sub-committee.
"I also work for another local charity as a Relationship Officer and continue to teach T'ai Chi."
Email: alison.gardiner@womenslibrary.org.uk
Helen MacDonald
Admin & Finance Worker

The other half of the Library's admin team and the Library's resident geek – Helen looks after the Library's IT needs as well as more general admin tasks.
Helen is the developer & moderator of the Women of Scotland website, created by GWL in partnership with Women's History Scotland, and represents GWL on the WHS steering committee
Email: helen.macdonald@womenslibrary.org.uk
Sammy Di Folco
Reception & Information Assistant

"I joined Glasgow Women's Library in March 2013 as a Receptionist and Information Assistant. It's the first job I've found empowering and inspiring and I'm quickly discovering that this is what I want to do. I'll most likely be the first person you'll see when you enter the library sitting with a cup of tea. Everyone at the library is very welcoming and I'm constantly learning something new: one of my favourite things about the library is the variety of things I get to do and learn."
Email: samantha.difolco@womenslibrary.org.uk
Contacting Staff
All the Library staff can be contacted via email or at the Library.