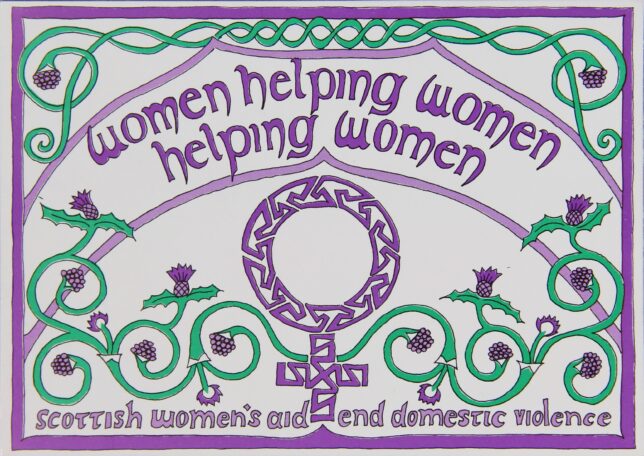 As the Speaking Out project comes to an end, Project Coordinator Emma Gascoigne shares the team's thanks, the resources created by the project, and encourages those involved in the movement to continue preserving the incredibly important history of Women's Aid.
Well folks, that's it, the Speaking Out project has come to an end. The past two years have been a bit of a whirlwind and it seems like just yesterday we were starting volunteer recruitment. Looking back, however, it's astonishing what the project has accomplished in such a short time. It's definitely been a journey, an incredible one, and we feel so privileged to have gathered, listened to, and shared so many women's stories of the movement. I'll always remember being almost moved to tears listening to Marilyn Ross' interview and her description of the remarkable solidarity of women in refuge. You can listen to this story and others here.
A huge thank you to all those interviewed for so generously giving your time and sharing your experiences and memories – sometimes heart-breaking, sometimes heroic, but always characterised by the strength and resilience of spirit so integral to Women's Aid. We also owe a massive debt of gratitude to our project volunteers, who conducted and transcribed interviews, catalogued and digitised the archive, and worked to share the history of the movement through creating a variety of resources. Without you, Speaking Out could never have existed, it's that simple. Thank you for all of your efforts.
Speaking Out has been a significant step towards ensuring that the history of the Women's Aid movement in Scotland is preserved for future generations. Women have far too often been written out of the historical record. We know this and we also know we need to take action now to safeguard our heritage. The extraordinary achievements, hard work, and determination of women, both past and present, in establishing and growing the Women's Aid network in Scotland deserves recognition. Preserving the movement's history is also critical in connecting the present with the past, understanding the roots of Women's Aid and how that shapes our current identity, both national and at a local level. Going forward, we need your help in continuing the work that Speaking Out has started. As Elspeth King, former curator of the People's Palace museum in Glasgow and champion of Scottish women's history, said:
'There is a clear message for all women who were or are involved in the movement: take your historical papers, correspondence, minute books, cuttings and relevant information and deposit them in a Scottish library or archive before it's too late. Take your T-shirts, your badges, jewellery and posters to your local museum and demand that they be preserved for posterity. Do not be written out of history.'
To assist with this endeavour, we'll be sending out a History Safe Toolkit to local Women's Aid groups with guidance and advice on what documents and items are important to keep and how to best preserve them. We hope the Scottish Women's Aid collection held at Glasgow Women's Library will continue to grow over the coming years and will be used by local Women's Aid groups, researchers, communities, and many others. You can access the toolkit online here.
In addition to the toolkit, as a legacy, Speaking Out has created a number of resources which we hope will be of use to those both within and without the Women's Aid network. Please draw on these outputs and share with others!
From the entire project team, thank you so much for all of your interest, enthusiasm, and support over the past two years.
Be heard. Keep your voices loud. Keep speaking out.