The Speaking Out Project hosted three art workshops with Glasgow East Women's Aid in August and September 2017 in partnership with Frances Corr, an artist and former GEWA volunteer. Some of the artwork created by the women in the workshops is now on display as part of the Speaking Out exhibition, showing at Glasgow Women's Library until the 27th October.
Creative expression is an important outlet for women and young people affected by domestic abuse. We hosted a series of workshops with Glasgow East Women's Aid (GEWA) with the hope of providing a safe and inclusive space for women to relax, reflect, and express themselves.
Many of the women attending had no previous artistic experience, but were interested in having a go. To get the creativity flowing, we kicked off each session with a blind drawing exercise, meaning the women had to draw something – either each other or an object – without looking at the paper. Sounds simple, but it's surprisingly difficult to stop yourself looking down as you draw! If you haven't tried blind drawing before, give it a go – you might be surprised at the weird and wonderful things you produce.
Throughout the workshops, we explored the history of Women's Aid in Scotland and listened to some of the oral histories that the Speaking Out project has collected. We also looked at some of the protest art that women in Scotland have created through the ages – from Glasgow's rent strikes in 1915 to this year's Women's March. The women used some of these slogans as inspiration in designing masks, fans, and pin badges, creating artwork based on statements they wanted to make and things they believed in.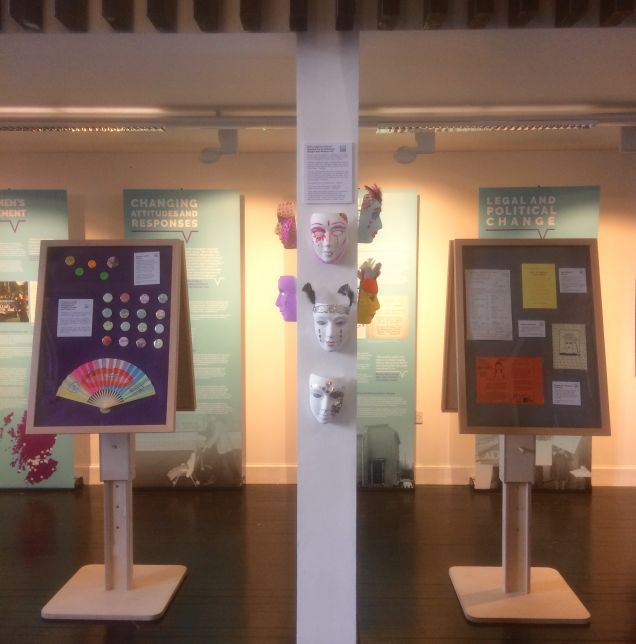 Three weeks passed quickly and before we knew it, we were saying our goodbyes. The women had made some incredible artwork, and many of them had surprised themselves in how much they enjoyed it and how happy they were with what they had made. Some of the participants shared with us what the workshops had meant to them:
"I'm doing this to relax. For so long I felt I was living on a knife edge. Women's Aid saved my sanity. I was sure I was going mad (brainwashed). They still support me – thank god for them, I've met some lovely people."
"A great media to express, let go and even feel proud of final results."
"It is enjoyable and de-stressing and good to be able to draw […] making different designs about women being stronger."
Many of the women have loaned their artwork to the Speaking Out exhibition, currently on display in the Glasgow Women's Library until the 27th October. Don't miss it!
Join us on the 7th October for a free guided tour of the exhibition, featuring audio clips from our oral history archives. If reading this post got you feeling creative, we'll also be hosting a zine making workshop on the 21st October, drawing inspiration from the Scottish Women's Aid archives.