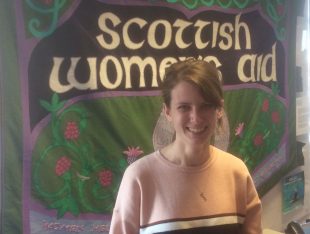 In this post, our new Heritage Engagement Officer, Susie Dalton, introduces herself and talks about what she'll be working on in the project.
Hello! I'm Susie, and I've just joined the Speaking Out Project as the Heritage Engagement Officer. This is a new role for me, but this isn't my first blog for the Speaking Out Project. I've been a volunteer on the project since spring of last year, and have written about my experiences as part of the filmmaking team, then as part of the educational resource group. It's a great feeling to now be writing this blog as an employee of the project.
I've worked in communications and heritage education for years, but when this role came up I was actually pursuing another passion, doing a pottery apprenticeship in the Highlands. Three of my friends sent me the job description on the same day, all accompanied by variations of 'This sounds like your dream job'. They were right!
I had recently helped to organise the Audacious Women Festival in Edinburgh, and this role seemed like the perfect way to continue celebrating and empowering women in the fight against gender inequality. As well as being a committed feminist, I love working with communities and heritage, and of course, I already knew the Speaking Out Project well, having been a volunteer for over a year. I'd had such a great experience with the project already, and loved working with the team, so I was delighted when I was offered the role.
The project concludes at the end of this year, so what I'll be focusing on between now and then is its legacy, evaluation of its outcomes, and ensuring that it's wrapped up in a suitably celebratory fashion. Speaking of celebrations – have you registered for our Speaking Out Celebration Conference yet? It's on the 2nd September in The Steeple, Dundee, and it's completely free. Lunch and childcare is provided, too!
I'll also be putting together the project publication in the coming months, with input from project volunteers and partners. We hope it'll be a valuable resource for people who want to further explore the themes of the project, and to continue recording and celebrating the achievements of Women's Aid in Scotland. Keep an eye out for the launch this autumn.
It has already been such a privilege to be part of this project, and to meet and work alongside incredibly inspiring women. I'm delighted that I get to keep doing so, and to have the opportunity to contribute to the project's final stages. Keep up to date with all of the exciting events we have planned over the next few months on our Events Page.
If you have any questions about the project, don't hesitate to get in touch with me by email or by phone (0131 240 0315).